Best Alabama Car Insurance (2023)
Alabama car insurance on average is about $72/mo ($868/yr) which is about $200 below the national average. The most expensive zip codes for car insurance are located near Birmingham, while the cheapest are in the southeast part of the state in rural areas.
UPDATED: May 10, 2023
Fact Checked
Free Auto Insurance Comparison
Compare Quotes From Top Companies and Save
Secured with SHA-256 Encryption
Leslie Kasperowicz
Farmers CSR for 4 Years
Leslie Kasperowicz holds a BA in Social Sciences from the University of Winnipeg. She spent several years as a Farmers Insurance CSR, gaining a solid understanding of insurance products including home, life, auto, and commercial and working directly with insurance customers to understand their needs. She has since used that knowledge in her more than ten years as a writer, largely in the insuranc...
UPDATED: May 10, 2023
It's all about you. We want to help you make the right coverage choices.
Advertiser Disclosure: We strive to help you make confident insurance decisions. Comparison shopping should be easy. We are not affiliated with any one insurance provider and cannot guarantee quotes from any single provider.
Our insurance industry partnerships don't influence our content. Our opinions are our own. To compare quotes from many different insurance companies please enter your ZIP code on this page to use the free quote tool. The more quotes you compare, the more chances to save.
Editorial Guidelines: We are a free online resource for anyone interested in learning more about insurance. Our goal is to be an objective, third-party resource for everything insurance related. We update our site regularly, and all content is reviewed by insurance experts.
UPDATED: May 10, 2023
It's all about you. We want to help you make the right coverage choices.
Advertiser Disclosure: We strive to help you make confident insurance decisions. Comparison shopping should be easy. We are not affiliated with any one insurance provider and cannot guarantee quotes from any single provider.
Our insurance industry partnerships don't influence our content. Our opinions are our own. To compare quotes from many different insurance companies please enter your ZIP code on this page to use the free quote tool. The more quotes you compare, the more chances to save.
On This Page
UPDATED: May 10, 2023
Fact Checked
If you're from Alabama you already know the state has a lot of proud residents who will be quick to tell you Alabama is a lot more than the stereotypes.
It's home to the best barbecue, the original Mardi Gras celebration, and the most loyal football fans in the country. Whether it's Roll Tide or War Eagle, football is serious business.
Alabama does live up to one stereotype, though, and that's southern hospitality. While Alabamians will let a "bless your heart" slip out, they're a genuinely friendly people happy to serve you a cold glass of sweet tea.
From the busy streets of Birmingham and Mobile to the white sand beaches on the Gulf Coast, Alabama is a diverse state and very different from the way Hollywood likes to present it. But no matter what part of the state you call home, you need car insurance to be on those southern roads.
Shopping for car insurance is not on anyone's list of favorite things to do. It's confusing, time-consuming, and can be costly if you choose the wrong company. You want to make sure you've done your research, but who has the time?
All of the research you need to make an informed decision on Alabama car insurance is right here.
We've gathered together details on the top companies in the state, compared their rates, and broken down all of the laws concerning car insurance in Alabama.
Ready to save some money on your car insurance bill? Start comparing rates right now.
Alabama Car Insurance Coverage and Rates
Car insurance isn't optional in Alabama; you're required by law to carry a minimum amount. Beyond that, you may need more coverage to meet your lender's needs if your car is financed, and there are options you can add on to better protect yourself, too.
Choosing car insurance is part meeting the requirements of the law and part making sure you're covered no matter what might go wrong on the road.
But with all the options, different limits, and factors affecting your rate, finding that balance isn't easy. You need a straightforward guide to the ins and outs of a good Alabama car insurance policy.
We have just that. In this section, we'll gather all of the details on car insurance coverage in Alabama and simplify it.
We'll look at what you need by law, what else is available, and how Alabama compares to the rest of the country for car insurance costs.
Alabama Minimum Coverage
Alabama law requires every driver to carry a minimum amount of liability insurance. This coverage will pay for injuries and property damage in an accident where you are found to be at fault.
To be legally on the road in Alabama, your insurance policy must provide:
$25,000 in bodily injury coverage per person
$50,000 in bodily injury coverage per incident
$25,000 in property damage coverage
These limits are on par with most other states, but they will be woefully inadequate if you're the one-in-three mentioned above. Carrying higher limits is the best way to protect yourself from the cost of a serious accident.
Forms of Financial Responsibility
The main form of financial responsibility is liability insurance. It's how most Alabamians comply with the law. There are a few other ways to be in compliance without carrying insurance, however.
Alabama law allows you to use a security bond to meet the requirement. You can also place a cash deposit or securities deposit with the State Treasurer to be issued a certificate of deposit which can replace an insurance policy. This must be in the amount of $50,000.
Whatever method you choose, you're required to carry and provide proof to law enforcement upon request, or face penalties. We'll cover the penalties for driving uninsured a little later.

Cost of Alabama Auto Insurance
While Alabama's average rates for car insurance are lower than the national average, so is the average disposable income. That means that Alabamians spend a larger percentage of their income on car insurance premiums compared to the rest of the country.
After an increase from 2012 to 2013, the percentage spent on car insurance stayed steady into 2014.
Drivers in Alabama spend less than some of their neighbors on car insurance, however. To the east Georgians spent 2.87 percent of their income on car insurance in 2014, while to the west Mississippi drivers spent 3.05 percent.
Average Monthly Car Insurance Rates in AL (Liability, Collision, Comprehensive)
How much is car insurance in Alabama? Core coverage refers to the basics of what's known as a full coverage insurance policy. It can be broken up into three main parts. Here's a look at how Alabama's rates compare to the national average.
As you can see, car insurance rates in Alabama are lower than average across the board, although not by much in the comprehensive and collision departments. The much lower cost of liability makes up the difference, bringing the overall average rate in about $200 below the national average.
We're not all average though, and a lot of things will impact what you personally pay for insurance. Some drivers will pay well under this average, and some well above. We'll get into rates in more detail soon.
Additional Liability
In order to better protect yourself from the cost of an accident, you can add additional liability coverage to your policy. The first way to do this – and probably the most important – is to increase your liability limits beyond the state minimum.
In addition to that, you can purchase some optional coverage.
Uninsured/Underinsured Motorist (UI/UIM) coverage is available for both bodily injury and property damage. This coverage will pay for damages if you are involved in an accident with a driver who either has no insurance or whose coverage is inadequate.
Medical Payments, or MedPay, is another coverage available to Alabama drivers to help protect themselves. This coverage will pay for injuries to you or anyone in your vehicle no matter who is at fault in the accident.
Above you will see the loss ratios for both types of liability. A loss ratio tells us how much insurance companies are paying out compared to how much they take in (premiums).
You want to see a number that's neither too high nor too low – high means there's a risk of financial problems for insurers, and low means they aren't paying out claims as they should.
Alabama's MedPay loss ratio is good, and little below average. The loss ratio for Uninsured/Underinsured Motorist Bodily Injury, however, is above average and on the high side. There's a likely reason for that.
Alabama has an uninsured motorist rate of 18.4 percent, ranking them sixth in the nation for uninsured drivers.
More uninsured drivers mean more responsible drivers being forced to make claims against their UI/UIM coverage, and greater losses to insurance companies.
Add-Ons, Endorsements, and Riders
In addition to the basics of an insurance policy, here are some extras you can expect to be offered on your car insurance:
Rental Reimbursement
Emergency Roadside Assistance
Mechanical Breakdown Insurance
Modified Car Insurance Coverage
Car insurance companies will offer some or all of these, and the options vary.
Most major insurance companies – and many small ones – offer some sort of usage-based insurance plan designed to save you money by monitoring your driving habits. True pay-per-mile is only available from a handful of companies, and currently, none of them are available in Alabama.
Average Car Insurance Rates by Age & Gender in AL
Two of the factors that are used to determine how much you pay for car insurance are your gender and your age.
Below we have gathered some rates for different age groups and compared them by gender; you'll also note that marital status is included. That's because that, too, can impact your premiums.
The most expensive group for insurance is, not surprisingly, 17-year-olds, with males generally facing higher premiums than females. That's because they're statistically more likely to be involved in an accident.
By 25 years old, rates even out a lot. The differences between genders and even between age groups become minimal, which tells us it's mainly that young, inexperienced age group that sees much higher rates.
Cheapest Rates By Zip Code
Who has the cheapest car insurance in Alabama? It's often a surprise to many to see that rates can change so much when you move from one zip code to another. Location is another one of the factors impacting rates, and it can make a big difference.
Search by zip code below to see how your area fares. You can also compare rates in your zip code by company.
The most expensive zip codes in Alabama are those in and around Birmingham, while the cheapest are found in the southeast part of the state, in more rural areas and small towns.
Cheapest Rates By City
Here's a look at the average rates by city in Alabama. Again, Birmingham tops the list, while small towns and areas in the southeast part of the state are the cheapest.
Best Car Insurance Companies in Alabama
With a good idea of what coverage you need, your next step is to start looking at your options. There are a lot of car insurance companies in Alabama to choose from, so how do you make the call?
You want to find an affordable insurance company, but you also want to make sure you can trust the company to take care of you in the event of a claim.
All insurance companies make big promises about their great service, but which companies are living up to that promise? It's hard to dig through all of the information out there, and you don't have the time.
This next section will take a closer look at the top insurance companies in the state and just how happy their customers really are.
We'll go over financial stability, ratings from trusted sources, customer complaints data – and yes, rates too – to help you decide which company is best for you.
The Largest Companies' Financial Ratings
Financial ratings tell us how a company is doing in terms of their ability to pay claims and stay in the black. AM Best is the most common source of these ratings, and grades each company with a letter.
As you can see, all of the top ten companies have a rating of A or better. An A or an A- is a rating of Excellent, while an A+ or A++ is a rating of Superior, the highest available. All of these companies are financially stable.
Companies With The Best Ratings
To compare companies by reputation, we'll look at J.D. Power's regional survey of car insurance company customer satisfaction. Of the top ten largest car insurance companies in Alabama, only one earned a rating of above average in the regional survey, and that's Geico.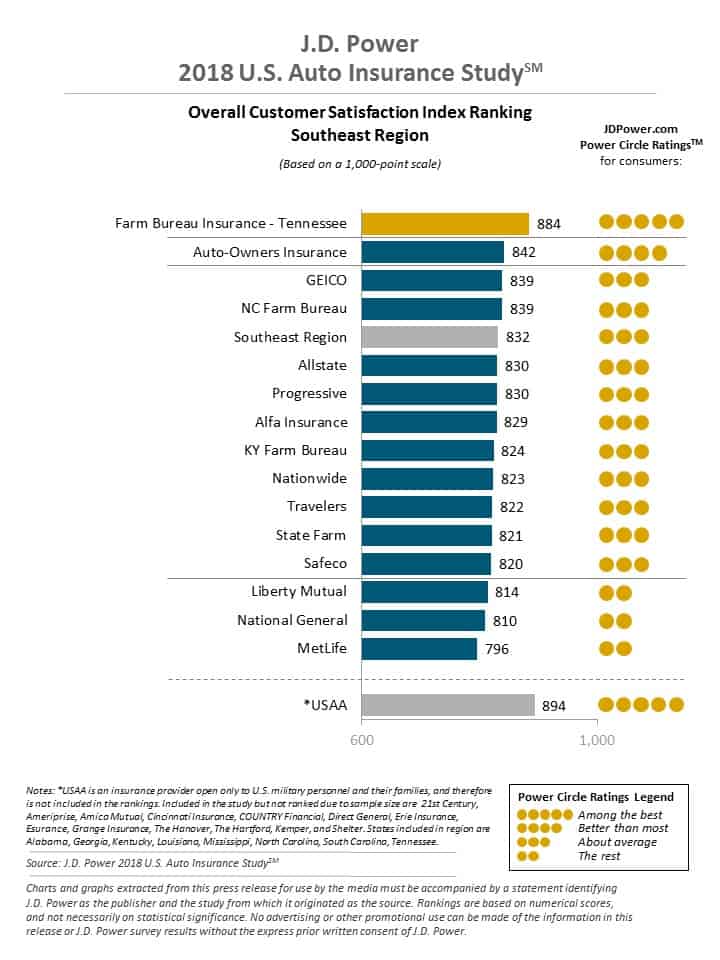 The top-ranked company doesn't operate in Alabama, which makes Auto-Owners Insurance the best-ranked company in the state.
Companies With The Most Complaints in Alabama
The National Association of Insurance Commissioners (NAIC) gathers complaints data for insurance companies in each state. Here's a look at how each of the top ten companies fared for complaints.
The complaints ratio tells us how the company's actual number of complaints ranks them based on how much business they have in the state. Since State Farm is the largest company by market share, they still have a lower ratio that several other companies even though their actual number of complaints is the highest. Learn more about State Farm in our State Farm insurance review.
ALFA Insurance has the lowest complaint ratio at a zero – no complaints reported.
Cheapest Companies in Alabama
Which company offers the best rates? Let's take a look at the average premium by company, comparing several companies' rates to one another and the state average.
USAA has the best rates in the state by a long shot, but unfortunately, they're not open to the general public. You'll need to have a military connection in the family to get a USAA policy.
Nationwide is the next cheapest, followed by Geico. although State Farm is the biggest company in the state, their rates are an average of more than 22 percent above the state average.
Rates By Commute
How much you drive daily and annually can also impact your premiums. Here's a look at some comparison rates for different companies with two different commute lengths.
Only a few companies show a difference in price by commute, and even then it's minimal compared to some other factors.
Rates By Coverage Level
A lot of drivers skimp on coverage because they think it's too expensive to carry higher limits. Here's a look at what low, medium, and high coverage levels look like at several companies in Alabama.
While it's sometimes quite a bit more expensive to increase coverage, in most cases it's not.
Rates By Credit History
Your credit history can have a big impact on rates, depending on the company.
Based on the numbers above, if you have poor credit State Farm and Liberty Mutual are not your best choice.
Rates By Driving Record
It's common knowledge that a ticket, accident, or other violation will usually increase what you pay for insurance, but by how much? Here's a look at how three common scenarios increase rates over a clean record for several companies.
No matter what's on your record, shopping around can make a difference. While some companies charge their highest rate on a DUI, it's the accident that has a bigger increase at other companies.
Largest Car Insurance Companies in Alabama
These are the top ten companies by market share in Alabama. More than a quarter of Alabama drivers choose State Farm. The second most common choice sis homegrown insurer ALFA, which has its headquarters in Montgomery.
Number of Insurance Companies in Alabama
Alabama drivers have a lot of different insurance companies to choose from, probably more than the average person is even aware of.
There are a total of 876 property and casualty insurance companies licensed to do business in Alabama.
Those can be broken down into domestic (incorporated within the state of Alabama) and foreign (incorporated in another state)
There are 18 domestic insurance companies and 858 foreign operating in Alabama.
Alabama State Laws
Anyone behind the wheel in Alabama needs to be aware of the laws that govern drivers, vehicles, and the roads.
There are a lot of laws on the books, and they're generally written in language that seems determined to be as confusing as possible. What do you really need to know? How do the laws apply to you? A simplified look at the most important of Alabama's state laws would make it a lot easier to make sense of them.
This section will cover the need-to-know out of the many state statutes.
We'll cover insurance laws, rules of the road, and driver and vehicle licensing laws and rules.
Car Insurance Laws
First, we'll take a look at the laws that relate to car insurance, including what's available to high-risk drivers.
How Alabama Laws for Insurance Are Determined
The Alabama Legislature is responsible for determining all laws related to insurance (Title 27) and motor vehicles (Title 32). All of these laws can be found in the state statutes. Changes to the law must pass through the legislature before they can be made official.
The Insurance Commissioner requires that rate filings by insurance companies be in place 30 days in advance, although the Commissioner may provide an extension of an additional 30 days.
Windshield Coverage
Under Alabama law, car insurance companies must replace a windshield with parts equal in quality to the original glass. In other words, the new windshield has to restore the vehicle to where it was before the damage.
There are no other laws regarding auto glass. Car insurance companies may offer optional coverage that is specific to glass repair and replacement, but if not it will be covered as a comprehensive loss and the deductible will apply.
High-Risk Insurance
High-risk drivers are those whose history makes it difficult to obtain insurance coverage, either at a reasonable price or at all.
A driver with a poor driving record, such as one with multiple tickets and accidents or repeated major violations, often won't qualify for coverage with a standard insurer.
Non-standard auto insurance companies will usually insure the drivers the others won't, but there are cases where a driver is turned down by all of the options, or at least a lot of them.
In that case, Alabama has a special program to get everyone insured.
The Alabama Automobile Insurance Plan (AL AIP) is a pool of insurance companies to which high-risk drivers are assigned. The company must provide the driver with an auto policy offer, and the premium has to be within the state's limits.
This is considered to be the last resort option when other insurance companies have turned a driver down for coverage.
High-risk driver insurance is very expensive.
Even under the AL AIP program, you can expect to pay a lot, but it will get you on the road while you clear up whatever is on your record.
Find out the best car insurance companies for high-risk drivers.
Low-Cost Insurance
There is no official low-cost insurance option for Alabama drivers. Shopping around is your best bet for finding a rate that fits your budget.
The best way to find cheap car insurance rates is by shopping around. You can start with your current insurance company and see if they offer a better rate than their competitors. If not, you may want to shop around for another insurer.
Automobile Insurance Fraud in Alabama
Insurance fraud is illegal in Alabama, and includes several categories including filing a false claim, inflating a claim, and putting false information on an insurance application.
Alabama's Fraud Bureau investigates fraud cases that are reported either by citizens or by insurance companies.  In 2017 they investigated a total of 223 cases, some of which were carried over from the previous year. They closed a total of 168 cases, with 11 of them listed as unfounded and 35 of them ending in an arrest.
Insurance fraud in Alabama is a felony punishable by imprisonment.
Fraud with a loss of less than $1,000 is prosecuted as a Class C felony and carries a penalty of up to 10 years in prison. Above $1,000 bumps it up to a Class B felony, punishable by up to 20 years in prison.
Statute of Limitations
The statute of limitations on both personal injury and property damage claims in Alabama is two years.
After this time period, you can no longer make a claim or file a suit for damages.
Vehicle Licensing Laws
This next section will look at laws that cover driver and vehicle licensing laws in Alabama.
REAL ID Law
By October of 2020, all states must be in compliance with the REAL ID Act, which is designed to make driver's licenses more secure and harder to obtain by fraudulent means.
Once the due date passes, previously issued driver licenses will no longer be accepted for air travel. You'll still be able to travel if you have a passport or other acceptable government-issued ID.
Alabama is already in compliance with the act, which means you can obtain a REAL ID driver license to replace your old license. In Alabama, that's known as a STAR (Secure, Trusted, and Reliable) ID.
Getting this type of ID is a bit more complex than the previous type of license. You will need to present more documentation proving your identity and legal presence in the United States. Here's a list of what is needed to get a STAR ID.
Proof of identity and date of birth for citizens:
Valid, unexpired U.S. passport
Original or certified copy of a birth certificate
Consular Report of Birth Abroad
Certificate of Naturalization issued by the Department of Homeland Security
Certificate of Citizenship issued by DHS
Proof for non-citizens:
Valid, unexpired Permanent Resident Card – I-551 for Lawful Permanent Residents
Valid Passport for non-immigrants except for asylum applicants and refugees
Other government issued document showing your full name
Department of Homeland Security document showing proof of lawful presence
If your name has changed by marriage/divorce, you must have your name changed on your Citizen and Immigration Services (CIS) documents.
Additional documents needed:
Your Social Security Card
Two documents that show your principal residence
Finally, if your name doesn't match your ID, you will need:
Court ordered name change document
Marriage certificate, issued by the courts and/or
Divorce decree, issued by the courts
Penalties for Driving Without Insurance
Driving without insurance in Alabama can result in penalties including fines and loss of your driving privileges.
Alabama allows drivers to present proof of insurance either on paper or electronically. You're required to present proof to an officer during a traffic stop or at the scene of an accident, and when registering a vehicle.
The state also has an online insurance verification system that can be used by law enforcement to check on insurance for a particular vehicle.
The Department of Revenue sends out insurance verification requests to which you are required to respond; if you fail to do so your registration can be suspended. There's an online portal where you can respond to their insurance questionnaire and upload proof of insurance.
Teen Driver Laws
Alabama uses a Graduated Driver Licensing (GDL) system for teen drivers that's designed to keep them safe while working on driving skills and experience. There are three stages to the program, and each has requirements, rules, and restrictions.
Older Driver License Renewal
Alabama's license renewal laws and procedures are the same for all ages after the initial GDL program is complete.
Renewal is every four years regardless of age, and vision tests are not required.
New Residents
If you're moving to Alabama, you will need to get an Alabama driver's license in person at an Alabama Law Enforcement Agency (ALEA) office.
Those holding a valid out-of-state license don't need to take any form of test; you will simply need to arrive at the ALEA office with your current license, your social security card, and a secondary form of identification, fill out the application form, and pay the fee.
If you don't hold a valid license, you will need to go through the standard process to obtain a license. This includes all testing and vision screenings. Drivers under 19 will also need to present proof of school enrollment or graduation.
License Renewal Procedures
Your Alabama license will need to be renewed every four years.
Every second year that renewal has to be done at an ALEA office, and in the years in between, you can renew online. There is no renewal by mail option available.
Unlike many other states, Alabama doesn't require that you provide proof of adequate vision or take a vision screening at the time of your license renewal.
Negligent Operator Treatment System
Alabama uses a points system to track negligent drivers and penalize them for repeat violations. Here's a look at some of the points value assigned to common offenses.
If you accumulate more than 12 points in a two-year period, your license will be suspended. The more points you have, the longer the suspension:
12-14 points in a two-year period ­- 60 days
15-17 points in a two-year period ­- 90 days
18-20 points in a two-year period ­- 120 days
21-23 points in a two-year period ­- 180 days
24 and above points in a two-year period -­ 365 days
This is, of course, in addition to any other fines and penalties the violation carries.
Rules of The Road
This section will look at some of the common – and commonly violated – rules of the road in Alabama.
Fault Vs. No-Fault
Alabama is a fault state. Also known as a tort system, in a fault state the person who is determined to be at fault in the accident is responsible for damages.
If you are at fault, your liability insurance will pay for injuries and property damage up to the limits of the policy. After the limits are reached and exceeded, you can be sued for any remaining damages.
Alabama also uses a contributory negligence law, under which you are barred from suing for damages if you are found to have any level of fault in the accident.
Unlike other states where you can still collect minus the percentage of fault that is yours, in Alabama you can't sue at all.
For example, let's say you are struck by a driver pulling out into the street, and at the time you are speeding.
The driver who failed to yield right of way carries most of the fault, but since you were also breaking the law by speeding and might have avoided the collision if you hadn't been, you carry some level of fault. That means you can't sue for damages.
Seat Belt & Car Seat Laws
Alabama's seat belt law states that anyone in the front seat over the age of 15 must be wearing a seat belt at all times, including the driver and any passengers.
Alabama also passed a new seat belt law requiring all backseat passengers to buckle up (effective since September 1st, 2019). For those under 15, car seat laws apply.
Here's a look at the type of car seat required by age in Alabama:
There is no state law against riding in the back of a pickup truck in Alabama.
Keep Right & Move Over Laws
In Alabama, drivers must keep in the right lane if they are traveling slower than the average speed of traffic around them. Alabama also recently passed an anti-road rage bill.
Effective since September 2019, the new law allows officers to ticket drivers who aren't passing other vehicles but stay in the left lane for more than a mile.
The move over law in Alabama is also simple. Drivers must move over a lane or slow down (15 miles per hour less than the posted speed limit) for the following stationary vehicles if they display flashing lights:
Emergency vehicles
Utility vehicles
Municipal vehicles
Department of Transportation vehicles
Bottom line? If you see a vehicle with flashing lights on the side of the road, move over or slow down.
Speed Limits
Below are the speed limits for various types of roads in Alabama. Bear in mind that speed limits can change, particularly in construction zones, and always obey the posted limit.
Ridesharing Laws
With the growing popularity of services like Uber and Lyft, states have had to implement laws to ensure drivers are covered for the liability involved in carrying passengers for pay.
Alabama was a little late to the party, becoming the 45th state to legalize rideshare services in 2018.
Currently, only two companies offer rideshare insurance in Alabama. Farmers and State Farm both have a rideshare endorsement available that will protect you from gaps in liability between personal insurance and the coverage offered by the service.
Bear in mind that personal insurance policies do not cover business use of a vehicle, and your company could drop you if you don't tell them you're driving for a service.
Automation On The Road
So far, Alabama has no laws on the books regarding automated vehicles.
A bill was introduced to deal with the issue in March of 2019, but nothing has been passed at the time of writing.
Safety Laws
This last set of laws deals with ensuring drivers on the road are safe, responsible, and in control of the vehicle.
DUI Laws
The legal limit for blood alcohol concentration (BAC) in Alabama is 0.08. At 0.15, it's considered a high BAC DUI.
Alabama's DUI laws are strict and include automatic license suspensions, fines, and jail time.
Marijuana-Impaired Driving Laws
While there is no specific law regarding marijuana and driving, and no specific measure of how much is too much, Alabama law allows drug-impaired driving to be treated the same as a DUI.
Law enforcement can make a judgment call regarding a driver's impairment, and if you are convicted of driving while impaired by marijuana the same DUI penalties will apply as with alcohol.
Distracted Driving Laws
Alabama doesn't currently have a handheld cell phone ban on the books, although drivers under 16 or 17 having held a restricted license for less than six months may not use a cell phone in any capacity, handheld or otherwise.
Texting while driving is illegal for all drivers in Alabama.
Driving in Alabama
You already know there are risks to owning a car and to being on the road. We've talked about how high the risk is of being involved in an accident in Alabama, but now it's time to break down the statistics.
It can be hard to make sense of where the real dangers lie and what you can do to help prevent being involved in an accident. But all the statistics out there can be overwhelming, and you don't have the time to dig through all the information.
In this section, we'll take a closer look at the dangers on Alabama's roads.
We'll cover vehicle theft statistics, vehicle crash information including when and how crashes most frequently happen, and a less frightening but common everyday risk of being on the road – getting stuck in traffic.
Vehicle Theft in Alabama
If you've ever had the experience of walking out to where you left your car only to discover it's not there, you know that sinking feeling is not one anyone wants to re-live.
There are a lot of ways to protect your vehicle from thieves, and you may want to step up your efforts if you own one of the most stolen vehicles in Alabama listed here.
Pickup trucks of all makes are found on the top 10 list, with Chevy and Ford in the top spots. These numbers cover all model years stolen, with the table also showing the most commonly stolen model year.
Search below to see how your hometown stacks up for the number of vehicle thefts in 2017, according to FBI data.
Road Fatalities in Alabama
In this section, we'll take a look at fatal crashes in Alabama and what conditions contributed to the crash, using data from the National Highway Traffic Safety Administration (NHTSA).
In 2017, there were a total of 948 fatal crashes in Alabama
A lot of factors can contribute to a fatal crash, including driver error and road conditions. We'll break it down by the numbers.
Fatal Crashes By Road and Weather Conditions
Nearly half of the fatal crashes in Alabama occurred during daylight hours and with normal weather conditions. Another half is made up by the dark, but lighted and full dark categories combined – again with normal weather conditions.
Bad weather wasn't a factor in the majority of crashes, but of all of the options (outside of normal) rain was involved in the most crashes.
Fatal Crashes By County
Search by county to see which areas of the state have the highest number of fatal crashes.
Traffic Fatalities Rural Vs. Urban
Rural roads in Alabama are more dangerous than urban roads.
In 2017, 596 fatal crashes occurred on rural roads. 352 fatal crashes happened on urban roads.
Fatalities By Person Type
The largest number of fatalities involved passenger car occupants. Nearly 120 of the total fatalities were pedestrians.
Fatalities By Crash Type
It will likely surprise a lot of people, but most fatal crashes in Alabama are single-vehicle. The majority of fatal crashes also involved a roadway departure.
Five-Year Trend For the Top Ten Counties
Although the general trend over the past five years has been an increase in traffic fatalities, the final year in our span (2016 to 2017) shows a decrease in most counties.
Fatalities Involving Speeding By County
Speeding is a dangerous choice, and in 2017 it was involved in 257 traffic fatalities. Here's how that number breaks down by county.
Fatalities in Crashes Involving an Alcohol-Impaired Driver
In 2017 268 traffic fatalities involved an alcohol-impaired driver. Below are the numbers by county.
Teen Drinking and Driving
Alabama is well under the national average for DUI arrests of drivers under 18.
Unfortunately, when it comes to drunk driving fatalities involving drivers under 21, Alabama is well above the national average.
EMS Response Time
EMS Response times in Alabama are slower in rural than in urban areas, which is fairly standard across the nation due to the distances involved in rural crashes.
Transportation
How do Alabamians get around? What does the average commute look like? This last section will look at Alabama's commuters and the traffic they face.
Car Ownership
Just over 40 percent of Alabama households have two cars, right around the national average. Both three and four-car households are above the national average.
Commute Time
Alabama drivers have a shorter commute at 23.8 minutes on average than the national average of 25.5 minutes.
Commuter Transportation
The vast majority of Alabamians (85.7 percent) drive to work alone, a number that's almost 10 percent higher than the national average.
Traffic Congestion in Alabama
Traffic in Alabama isn't as bad as that experienced by many other parts of the U.S., in part because Alabama's cities aren't nearly as large. With a population of just over 200,000 people, Birmingham is the biggest city in Alabama.
According to TomTom's traffic information, Birmingham drivers spend an average of 19 extra minutes per day of travel time in traffic. It adds up to about 74 hours annually.
Birmingham ranks at number 55 for congestion among cities in the United States
Congestion increases travel times by about 15 percent. In morning peak traffic, the increase is 25 percent, while the evening is worse with an increase of 37 percent.
Birmingham's highways only see an increase in travel time of five percent, while on non-highways it's 23 percent.
Ready to save some money on your car insurance bill? Start comparing rates right now.