Nationwide Insurance Review & Complaints: Auto, Home, Health & Pet Insurance (2023)
Nationwide Mutual Insurance is part of a group of companies operating under the Nationwide name. They offer almost every type of insurance and financial service on the market. They are one of the few companies that write their own pet insurance policies.
UPDATED: Nov 10, 2023
Fact Checked
Free Auto Insurance Comparison
Compare Quotes From Top Companies and Save
Secured with SHA-256 Encryption
Jeff Root
Licensed Life Insurance Agent
Jeff is a well-known speaker and expert in life insurance and financial planning. He has spoken at top insurance conferences around the U.S., including the InsuranceNewsNet Super Conference, the 8% Nation Insurance Wealth Conference, and the Digital Life Insurance Agent Mastermind. He has been featured and quoted in Nerdwallet, Bloomberg, Forbes, U.S. News & Money, USA Today, and other leading...
Licensed Life Insurance Agent
UPDATED: Nov 10, 2023
It's all about you. We want to help you make the right coverage choices.
Advertiser Disclosure: We strive to help you make confident insurance decisions. Comparison shopping should be easy. We are not affiliated with any one insurance provider and cannot guarantee quotes from any single provider.
Our insurance industry partnerships don't influence our content. Our opinions are our own. To compare quotes from many different insurance companies please enter your ZIP code on this page to use the free quote tool. The more quotes you compare, the more chances to save.
Editorial Guidelines: We are a free online resource for anyone interested in learning more about insurance. Our goal is to be an objective, third-party resource for everything insurance related. We update our site regularly, and all content is reviewed by insurance experts.
UPDATED: Nov 10, 2023
It's all about you. We want to help you make the right coverage choices.
Advertiser Disclosure: We strive to help you make confident insurance decisions. Comparison shopping should be easy. We are not affiliated with any one insurance provider and cannot guarantee quotes from any single provider.
Our insurance industry partnerships don't influence our content. Our opinions are our own. To compare quotes from many different insurance companies please enter your ZIP code on this page to use the free quote tool. The more quotes you compare, the more chances to save.
On This Page
UPDATED: Nov 10, 2023
Fact Checked
Nationwide Mutual Insurance Company is part of a group of companies operating under the Nationwide name. Together they offer just about any type of insurance or financial service you can think of.
Car insurance is a pretty big part of their operations, with the company ranking at number eight for market share in 2017.
In addition to auto and home insurance, Nationwide also offers life insurance for those consumers interested in providing financial security to their loved ones.
Like other insurance giants, Nationwide had humble beginnings and grew over 85 years to become a household name. In addition to auto insurance, they write specialty vehicle, home insurance, life, and a lot of other types of coverage.
They're one of the few major companies that actually write their own pet insurance policies. They also offer a range of financial services.
Nationwide's promise is that they are "on your side", which is what you want from your insurance company. Unfortunately, what we hope for is not always the true customer experience.
How can you know that Nationwide will give you the coverage you need and really be there for you when you have to use that coverage?
Choosing an insurance company can feel like a big gamble, and it's easier when you know the horse you're betting on.
We have gathered all the information you need about Nationwide to get a good idea of where they stand as a company.
Here you will get the lowdown on Nationwide's track record including ratings from top agencies and customer complaints. We'll also cover what they offer on their policies and how much they charge compared to other companies.
Are Nationwide's ratings positive?
Below you'll find ratings for Nationwide from a variety of respected and trusted sources. These cover the company's financial stability, customer ratings, and other consumer surveys. Check out the ratings and then read on for details on what each of them means to you as a potential customer.
AM Best, the best-known of financial rating companies, gives Nationwide financial strength rating A+, or Superior rating for financial outlook.
What that means to you is that Nationwide is on solid financial footing and can be expected to stay that way. They should have no difficulty fulfilling their financial obligations – paying your claims, that is.
The Better Business Bureau (BBB) gives companies a score based on a number of factors. These include the number of complaints filed against the company as well as their response to and settling of complaints. Nationwide has the top score, an A+.
Both Moody's and Standard and Poor's (S&P) give Nationwide high ratings for financial stability and creditworthiness; again, this tells you as a potential customer that this company isn't likely to go out of business and leave you without coverage.
The National Association of Insurance Commissioners (NAIC) complaint index is derived from comparing the number of complaints against a company to their share of the auto insurance market in the U.S.
The national average is 1.16, and Nationwide falls well below that at 0.44. That means they have fewer complaints than other companies based on the amount of car insurance they sell.
J.D. Power is one of the best-known names in consumer satisfaction surveys, and they do two national-level surveys each year as well as a regional survey of overall satisfaction.
In the national survey for 2018, Nationwide was rated two out of five (below average) on the insurance shopping study, and three out of five (average) on the claims satisfaction study.
Nationwide's performance varies across the regional surveys, but they didn't earn the top spot in any one area.
Consumer Reports, another well-known consumer survey source, gave Nationwide 88 on its 100-point scale. That puts them on par with competitors like Liberty Mutual and Allstate, both of which also earned 88 points.
Finally, Consumer Affairs – a customer review and rating site – has 85 starred reviews of Nationwide in the past year, with 58 of those being one-star reviews. While that sounds bad, it's actually a small number of complaints for the size of the company.
What is Nationwide's history?
In 1925, the Ohio Farm Bureau created Nationwide as the Farm Bureau Mutual Automobile Insurance Company. It sold its first policy in 1926. The company expanded beyond Ohio quickly, serving six states by 1928. They expanded to a total of 12 states, along with the District of Columbia, by 1943.
By 1955 the company had expanded west, adding 20 more states to its service area, and made a name change to reflect their growth. It officially became known as Nationwide Insurance.
Expansion and acquisitions over the following decades made Nationwide one of the largest insurance groups in the country. They added Nationwide Financial in 1997 and opened Nationwide Bank 10 years later, in 2007.
In 2018 Nationwide ranked at number 67 on the Fortune 500 list, making them one of the biggest insurance companies in the nation. They continue to operate as a mutual insurance company.
In 2015, Nationwide had a 3.74 percent share of the national auto insurance market. That share dropped to 3.56 percent in 2016, and dropped again to 3.17 percent in 2017.
That's a steady decline in market share, although Nationwide has held onto the number eight spot throughout those three years. It's come during a time when direct-buy companies like Geico and Progressive have seen a lot of growth, which has affected a lot of companies.
What is the sales approach?
For a long time, Nationwide operated through a blend of both independent agents and captive agents. In 2018, however, they announced a shift away from captive agents entirely, which is expected to be completed by 2020.
That means that in the future all Nationwide agents will be independent. That can be a good thing for consumers since the agent doesn't work solely for one customer and can provide a range of options.
Nationwide also offers the option to purchase a car insurance policy directly online as well as over the phone.
Does it make commercials?
Nationwide's jingle is pretty famous and has been around a long time. The slogan "Nationwide is on your side" was introduced in 1965 and turned into a jingle in 1969.
It has since been performed by a variety of people, most recently Tori Kelly.
Another well-known performer on the commercials is country musician Brad Paisley. He is joined by NFL quarterback Peyton Manning, Jr. in a series of amusing commercials called "The Jingle Sessions". These commercials depict the two working on new songs for Nationwide.
While they often move into humor, Nationwide's commercials generally focus on the company's slogan promise – to be there for customers.
Is it involved in the community?
Nationwide is engaged in a variety of charitable activities, both on a corporate level and through employee volunteers.
The Nationwide Foundation was established in 1959 and provides grants to nonprofits as well as sponsorships to nonprofit events. Since 2000, Nationwide reports for than $467 million in funding to nonprofits through the foundation.
Nationwide also partners with The United Way, The American Red Cross, and Feeding America. Their Community Connect program helps employees to take on and complete volunteer projects.
In 2007, Nationwide donated $50 million to the Columbus Children's Hospital, which was renamed Nationwide Children's Hospital in response to the gift. The company continues to support the hospital with annual gifts.
What is Nationwide's position for the future?
Despite a decline in its market share over the past few years, Nationwide is a huge and very strong company. There's no reason to think they won't continue to succeed in the future.
Along with the move into independent agents, Nationwide may also increase its online sales presence. Both of these moves could see the company bounce back in terms of market share.
What are Nationwide employee demographics?
One of the things that makes an insurance company a good place to do business with is that it's a good place to work. In this section, we will look at the company's employees and workplace experience.
According to Payscale, Nationwide has an average employee age of 36 years old, and the average tenure is 4.7 years. The site's survey reports that 68 percent of employees cited high job satisfaction.
Payscale's survey ranked Nationwide at a 3.6 out of five overall for workplace satisfaction. That ranks them above State Farm, the biggest auto insurance company in the nation, which earned 3.4.
Glassdoor shows similar numbers, with Nationwide ranking there at a 3.5 out of five for satisfied employees.
Great Place to Work's survey resulted in an overall 88 percent of employees saying Nationwide is, in fact, a great place to work. That's backed by the company's ranking on the Fortune 100 Best Places to Work two years running, in 2018 and 2019.
While the largest portion of the workforce (26 percent) has been with the company for two to five years, Nationwide has a strong 15 percent of their employees with the company for more than 20 years.
What are its awards and accolades?
As we just mentioned, Nationwide has been named twice in a row to the Fortune list of the 100 Best Places to Work.
In 2018, they also made People's list of Companies that Care. They were also named to Fortune's Best Places to Work lists for Millennials, for Women, and for Diversity.
They've also picked up several other diversity awards. They have been named among the best places to work for Latinos and Latinas, won the Catalyst award for the advancement of female employees, and named a top place to work for diversity by Black Enterprise magazine.
They have earned a spot on the Human Rights Campaign's 100 percent Corporate Equality Index for fourteen straight years.
Can you get cheap Nationwide car insurance rates?
We'd all prefer to choose the best insurance company regardless of their rates. Most people, however, have a budget to deal with and need to find the right balance of reputation and cost. So now that we've looked at Nationwide's ratings, how do they stack up for price?
All insurance company rates vary based on factors like where you live, your age, gender, and driving record, and more. We'll take a look at average Nationwide car insurance's rates for a variety of scenarios, and compare them to other companies, too.
What are Nationwide policy rates by state?
The table below shows Nationwide's average rates in each of the states where they write auto insurance, and how they compare to that state's average rate. Nationwide is not available in four states: Alaska, Hawaii, Louisiana, and Maine.
In all but nine of the 46 states (plus D.C.) where Nationwide writes auto insurance, the company comes in below average. And in most cases, they aren't that far above average.
Notable exceptions are Wisconsin – the most expensive state at 30 percent above average – and California at just over 20 percent more than average.
The cheapest place to have Nationwide is Michigan, where rates are 65 percent below average. Midwest states like Minnesota and North Dakota are on the cheap side as well, along with Maryland and Vermont.
Surprisingly, Nationwide is about 17 percent above average in the company's home state, Ohio.
What are the rates compared to top companies?
This table will show you average rates by state for the top ten car insurance companies in the country, one of which is Nationwide.
Nationwide's rates are lower than other big companies in a lot of states. They even manage to out price low-cost insurance leaders GEICO and Progressive in some states.
What are auto insurance rates by commute?
Nationwide isn't one of the insurance companies where you need to worry about a longer commute impacting rates. There is little difference in these comparison rates.
What are auto insurance rates by coverage level?
Nationwide is a company where you can afford a higher level of coverage. The numbers below show minimal increases even between low and high levels.
What are auto insurance rates by credit history?
While people with poor credit pay double what those with good credit score pay at many companies, Nationwide's average rates don't jump quite as much.
What are auto insurance rates by driving record?
No matter what company you're considering, Nationwide customers can expect that a driver with a clean record will get the best price. But from there, companies vary quite a bit in terms of what they charge for tickets, accidents, and other violations. Here's what Nationwide charges on average for a clean record and four different scenarios.
Nationwide's rates don't take much of a hike for a speeding ticket, but a DUI is going to result in a pretty big increase.
What insurance products and coverages are offered?
All insurance companies offer the basics – what you need to be on the road legally. When it comes to coverage options, there are some standard inclusions there too. There are also common and not-so-common options that may or may not be available depending on the company.
What are the offered types of coverage?
Nationwide operates in many states, each with its own laws regarding insurance. Depending on where you live, you will need to carry a minimum policy that includes some or all of these basics:
Bodily Injury Liability
Property Damage Liability
Personal Injury Protection (PIP)
Medical Payments (MedPay)
Uninsured/Underinsured Motorist Bodily Injury
Uninsured/Underinsured Motorist Property Damage
Even if your state's laws don't require all of these, they are worth considering as options. Adding liability coverage can help create a comprehensive policy and protect you financially from an accident.
Nationwide offers these options, which vary by state:
Collision
Comprehensive coverage
Roadside Assistance
Rental Car Reimbursement
Gap Coverage
Total Loss Deductible Waiver
Accident Forgiveness
There are some other things you can add to your policy as well, which we'll look at shortly.
Can you bundle?
Nationwide offers a lot of different products, which makes bundling with them a true one-stop shopping experience.
Discounts are available for bundling auto with a homeowners insurance policy, renters, life insurance, and boat insurance. There are other combinations that can also earn you a discount, such as bundling a motorcycle policy with a home or renters policy.
What is its area of operation?
Nationwide auto insurance is available in 46 states as well as the District of Columbia.
They don't currently offer car insurance in Alaska, Louisiana, Maine, and Hawaii.
What additional options are available??
Nationwide has a few other options available that can add value to your policy as well as reduce your costs.
Vanishing Deductible is an optional program that reduces your deductible by $100 each year that you remain accident-free.
The first $100 credit is applied 30 days after the option is added to the policy, and each year an additional $100 credit is given. The maximum credit is $500, which could be the entire deductible depending on your policy.
Smart Ride is Nationwide's usage-based program. It uses a plug-in device to record driving habits for a period of four to six months. The data is used to calculate a discount. There is an initial discount just for signing up, which will be replaced with your calculated discount at the end of the program.
Smart Ride records similar information to most such programs: braking, acceleration, time of day, and miles driven. It also records time spent idling, which is an unusual factor to consider.
Nationwide also integrates its Smart Ride program with Amazon Alexa.
Nationwide offers BonusDrive, a cash-back incentive program for those buying a new car. The program gives the insured $500 cash back when they purchase a new vehicle from a specific list of car companies.
In addition to the cash back, Nationwide has an Auto Shopping Service to help with the purchase of a new or used vehicle. Run by TrueCar, which is used by several major insurance companies, the plan offers discounted prices and other benefits.
The On Your Side Repair Network is Nationwide's preferred repair shop program. Repairs done by a participating shop are guaranteed for as long as you own the vehicle.
Nationwide recently launched Smart Miles, their pay-per-mile program, making them one of only a handful of insurance companies to offer it. It's currently available only in Illinois.
It's worth noting that Nationwide doesn't currently offer car insurance coverage for rideshare drivers. However, in March 2019, they announced plans to work on an on-demand insurance plan for rideshare drivers in association with Slice Labs. That coverage is not yet available at the time of this review.
What discounts are offered?
Nationwide offers a lot of different discounts to help bring down insurance premiums. Here's a list of what's available, how to qualify, and what the discount might be.
Nationwide doesn't provide a lot of information in terms of how much each discount is, probably because it does vary from state to state.
While we did see discounts like those for a new car, early signing, and homeowner listed elsewhere as being available from Nationwide, those discounts aren't among the ones listed on the company's website. Early signing does show up during the quote process, which tells us the list of discounts on the website is incomplete.
Notably absent from Nationwide's list are a military discount and any sort of green vehicle discount. They do offer more bundling discounts than some other insurance companies, but it's not clear how much it will really reduce your car insurance rate.
A lot of Nationwide's discounts are focused on safe driving habits, which makes the company a good choice for those with a clean record and willing to do things like take a defensive driving course and enroll in the usage-based program.
How can I get a quote online?
The entire process of quoting and purchasing a policy can be done online on Nationwide's site. The front page of the website includes a quote box.
After you enter your zip code, you'll need to enter all of your contact information, including home address, email address, and phone number. They'll ask you to check off a box giving permission for Nationwide to contact you for a variety of purposes including marketing, but you don't have to check this to continue.
If you don't want to deal with solicitation, leave the box unchecked, and continue with the quote.
The next section will pull up available records for vehicles at your address, and also give you the opportunity to add vehicles that aren't listed.
After adding vehicle information, the next section will ask for driver details.
The following steps will cover previous/current insurance information and go over the discounts for which you might qualify. Finally, you will receive quotes.
In this section, you can adjust the coverage you want in order to finalize the quotes based on your chosen limits and deductibles.
You will need these items to get a quote from Nationwide.
The table above applies to the quote process – if you want to apply for coverage, all of the above will be required.
Are Nationwide's website and app easy to use?
Nationwide's website is easy to navigate, with top-level menus offering quick access to the most commonly needed information. That includes product information, claims, and contact information.
The repeated moving images on the front page have the potential to make it slower to load if you're not on a strong internet connection and make the page feel a little less clean.
Information on products and services is easy to locate. There is also a range of articles available on the site covering useful topics from car seat safety to preparing for a teen driver.
Overview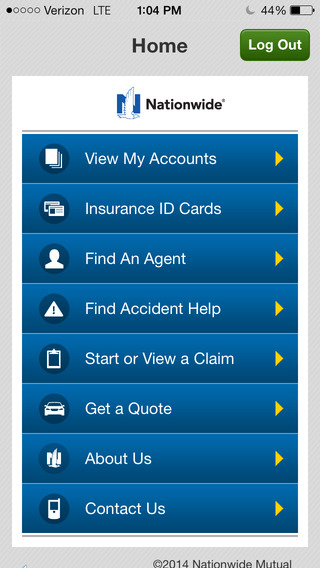 Nationwide's Mobile app appears to have been created out of necessity rather than from creative genius. It does provide some basic utility, unfortunately, much of which can be lost due to poor user experience.
To be clear, Nationwide has two (2) mobile applications. Nationwide Mobile is a downloadable to manage insurance policies, including paying bills, locating local agents and receiving rate quotes. Nationwide Bank is their app used for mobile banking via Nationwide's banking services.
They are both free to download.
What is the device availability?
Both the Nationwide Mobile and Nationwide Bank apps are available for Apple and Android products. They can be downloaded for these devices from the App Store and Google Play respectively.
Specifically the apps work on iPhone, iPad, Android smartphones, and tablets.
What are the app features?

What is Nationwide mobile?
Nationwide has done an OK job of bringing practicality and ease of use to end users. Without having an account with Nationwide I am able to get a quote from my phone, browse local insurance agents, and gather general information about the company.
Let's take a look at what someone with a Nationwide account can do with this downloadable:
Get a quote
View/edit account details
View electronic insurance cards
Locate an agent
Find accident help

Call a tow truck
Find a repair shop
Accident checklist

Start or view a claim

Start a new auto claim
Continue an auto claim
Start a new life claim
What is Nationwide Bank?
Like Nationwide's insurance mobile application used to manage your policy, the Nationwide Bank app gives people access to bank account information on the go.
My question is why two different apps?
With the Nationwide Bank® mobile app you can:
Deposit checks with eDeposit
Pay bills
Check account balances
View transaction history
Transfer funds
Find ATMs
Google Play/ iTunes Reviews
Google Play rates the Nationwide Mobile app at 3.8 stars out of 5 based upon 837 reviews. iTunes rates it a bit lower at 3 stars based upon a much greater sample size of 3,552 reviews.
Google Play rates Nationwide Bank® just about the same as the mobile policy app at 3.6 stars, however, this is based only on 82 reviews. iTunes has even fewer reviews at just 32 with a combined rating of 2 stars.
Pros
Cons
Slow
Very Basic
Uninspired
Nationwide hasn't really done anything special here. They just seem to be lacking any creative focus. Insurance and banking are pretty boring by themselves, and these apps are a reflection of that.
That being said, these apps will help you manage your insurance policy and/or banking with Nationwide just fine.
We might not have answered all of your questions about Nationwide's auto insurance, so here are a few more questions and their answers. If your answer still isn't here, head over to Nationwide's auto insurance page for more information.
Does choosing an agent versus buying directly change the price? No. Quoted prices are the same whether you have an agent help you with your insurance or buy it yourself directly. Quotes can change, however, based on information discovered after the quote, like a ticket you forgot to mention.
Can using Smart Ride increase my rates? No. There are some usage-based programs where the data gathered can result in an increase in rates. Nationwide, however, will only use the data to calculate a discount.
Will Smart Miles be available in other states? Yes. Nationwide plans to roll the program out in other states throughout 2019, but which states will be included isn't known just yet.
What is it like filing a claim for Nationwide Insurance?
Nationwide's On Your Side Claims Services promises to handle your auto claim quickly, efficiently, and with as little hassle for you as possible.
There are several ways to file a claim:
Online on the Nationwide site
Over the phone at  1-800-421-3535
By contacting your agent, if you have one
Using the Nationwide app
Both the app and your customer account on the website include claim status tracking.
There are a separate claim phone number and online report form for auto glass-only claims. That number is 1-800-890-1375. Safelite, a national glass repair and replacement company that works with most of the major insurance companies, handles auto glass claims.