State Farm Insurance Review & Complaints: Car Insurance (2023)
State Farm Insurance is the biggest insurance company in the United States and offers a wide variety of auto insurance policies. In this review we'll cover their history, reviews, claim process, and policies.
UPDATED: Sep 26, 2023
Fact Checked
Free Auto Insurance Comparison
Compare Quotes From Top Companies and Save
Secured with SHA-256 Encryption
Schimri Yoyo
Licensed Agent & Financial Advisor
Schimri Yoyo is a financial advisor with active life and health insurance licenses in seven states and over 20 years of experience. During his career, he has held roles at Foresters Financial, Strayer University, Minnesota Life, Securian Financial Services, Delaware Valley Advisors, Bridgemark Wealth Management, and Fidelity.  Schimri is an educator eager to assist individuals and families in ...
Licensed Agent & Financial Advisor
UPDATED: Sep 26, 2023
It's all about you. We want to help you make the right coverage choices.
Advertiser Disclosure: We strive to help you make confident insurance decisions. Comparison shopping should be easy. We are not affiliated with any one insurance provider and cannot guarantee quotes from any single provider.
Our insurance industry partnerships don't influence our content. Our opinions are our own. To compare quotes from many different insurance companies please enter your ZIP code on this page to use the free quote tool. The more quotes you compare, the more chances to save.
Editorial Guidelines: We are a free online resource for anyone interested in learning more about insurance. Our goal is to be an objective, third-party resource for everything insurance related. We update our site regularly, and all content is reviewed by insurance experts.
UPDATED: Sep 26, 2023
It's all about you. We want to help you make the right coverage choices.
Advertiser Disclosure: We strive to help you make confident insurance decisions. Comparison shopping should be easy. We are not affiliated with any one insurance provider and cannot guarantee quotes from any single provider.
Our insurance industry partnerships don't influence our content. Our opinions are our own. To compare quotes from many different insurance companies please enter your ZIP code on this page to use the free quote tool. The more quotes you compare, the more chances to save.
On This Page
UPDATED: Sep 26, 2023
Fact Checked
State Farm is arguably the best know personal insurance company in the nation, but what isn't arguable is that they're the biggest. More Americans choose State Farm for their home and auto insurance than any other company.
In 2017, State Farm held the number one spot for property and casualty insurance across all lines, according to the National Association of Insurance Commissioners' (NAIC) report.
The company is vast, but does being the most popular choice make them the best? More importantly, does it make them the right choice for you? There are a lot of factors in choosing the right insurer, including price, customer service, and policy options.
It should always be in your best interest to know what you're looking for in a company when you're looking for car insurance. That means a lot of careful research, and figuring out if State Farm is right for you.
We've got you covered with our State Farm Insurance review, and we'll help you decide whether the company should be the one to protect you and your vehicles. We'll go over where State Farm ranks in terms of their reputation and financial stability, how their rates stack up, and what they offer you in terms of quality coverage and options.
Enter your ZIP code in our FREE tool above to get an insurance quote today.
Are State Farm ratings positive?
Below we've put together ratings for State Farm from some of the biggest resources. They include both financial ratings and consumer surveys, along with complaints information.
Take a look at the ratings, and we'll explain them further below.
First up is AM Best, which ratings companies for financial stability and credit-worthiness. State Farm has its top rating, an A++ or Superior score. What that means to you is that State Farm has the financial resources to stay in business and take care of their responsibilities – which to their policyholders means paying claims.
The Better Business Bureau (BBB) gives insurance companies a letter grade based on several factors. Among these are the number of customer service complaints filed against the business and how the company responds to and resolves those complaints. State Farm again has the top score – an A+.
The BBB lists 1,425 customer service complaints in the past three years. That's not such a big number when you consider that this is a really big company and that the complaints encompass all lines of business.
The next two rankings come from two more financial rating services, Moody's and Standard and Poor's (S&P). State Farm performs really well with both, confirming that the company is on solid financial footing.
State Farm's complaint index recorded by the National Association of Insurance Commissioners (NAIC) is a 0.57. This is a measure of the number of customer service complaints compared to the direct premiums written. That's well below the national average of 1.16.
Most people have heard of J.D. Power, which rates companies in several industries and passes out awards to those with the best score. They do several surveys of auto insurance customers. The two national surveys are for auto insurance shopping and claims satisfaction. State Farm earns three out of five on both customer satisfaction ratings. That's about average.
State Farm didn't earn top marks in any of the regional surveys but did perform very well in both the New England and Southwest regions.
Consumer Reports ranks State Farm at 89 out of 100 on their customer satisfaction survey scale. That's the same score as competitors like GEICO and American Family.
Finally, State Farm has four out of five stars on the consumer complaint site Consumer Affairs. That's based on the 2, 241 ratings submitted in the past year. That's impressive given the fact that most people visit sites like this one to complain rather than leave positive reviews.
What is the company's history?
State Farm was founded in 1922 by a retired farmer and insurance salesman by the name of George Jacob "G.J." Mecherle. The initial focus of the company was auto insurance for farmers.
Over the following decades, the company expanded beyond just farmers and into other lines of business. It also expanded operations beyond its home state of Illinois and into other states, eventually covering the entire country.
In the 1950s the company created its three-oval logo, which features the three main lines of personal insurance they sell – auto, home, and life. While it has gone through some changes, it remains very similar to the original. Today's logo features the ovals but not the words.
Aside from those three lines of business, State Farm also writes business and specialty insurance policies. In 1999 State Farm opened its banking and financial services branch as well.
State Farm today is one of the biggest companies in America. It ranks at number 36 on the Fortune 500. The company employs nearly 57,000 people and has more than 19,000 agents.
What is State Farm's market share?
In 2015, State Farm had 18.29% of the market share for private passenger auto.
That dropped to 18.26% in 2016, and again to 18.07% in 2017.
During that time second-place auto insurer GEICO increased its market share, sneaking up on State Farm but still more than five percent behind them. That leaves State Farm solidly in first place.
What is the sales approach used by this auto insurance company?
State Farm uses a captive agent model to sell insurance. Each insurance agent works only for State Farm, and they are the only ones that can sell you a State Farm policy.
State Farm has moved into the modern age and allows the purchase of car insurance policies directly online. The policy will still be assigned to an agent, however, and that agent will be the one that earns the commission for it and handles all policy administration after you get your online auto insurance quote.
Does State Farm have commercials?
"Like a good neighbor, State Farm is there" became the company's slogan and jingle in 1971. It was first performed by none other than Barry Manilow. Although the company still uses the good neighbor promise, the new slogan is "Here to help life go right." They still use the melody of the original jingle.
Like most insurance companies, State Farm's commercials today inject some humor into insurance claims. They have also featured celebrities in their commercials, such as comedian Ken Jeong and NFL football player turned actor Terry Crews. American Idol contestant Lauren Alaina has also done a series of commercials for State Farm. They don't, however, have a true celebrity spokesperson.
Is State Farm involved in any community service?
State Farm gives back to communities across the country through programs like grants, scholarships, and volunteerism.
In 1963, State Farm established the State Farm Companies Foundation. It provides support for scholarship programs and gift matching on employee contributions to educational institutions and charities.
The Good Neighbor Grant Program provides grants to employee chosen nonprofits, both on an individual and team level. Grants are given on behalf of any employee that volunteers at least 40 hours a year with a charity.
They also sponsor the Neighborhood of Good program, which is dedicated to encouraging volunteer efforts.
How is the company positioned for the future?
While State Farm's market share has been eroded over the years as direct buy companies have become more and more competitive, there's no reason to think the company will change.
State Farm has a wide range of products and services and the size and finances to back them up. It's likely they'll keep on doing what they have been doing for nearly 100 years and continue to see success as a major insurance company.
What are State Farm's employee demographics?
You might not be looking for a job at State Farm, but knowing how their employees feel about the company is useful information. After all, a company that takes care of employees also takes care of customers.
According to Payscale's data, the average age of State Farm employees is 36, and they have an average tenure of three years. 70% of the employees surveyed said they have a high level of job satisfaction with State Farm.
Employees surveyed gave State Farm an overall 3.4 out of five for satisfaction, which is the same grade given to major competitor Allstate.
Over on Glassdoor, State Farm has a rating of three out of five. Only 42% of the employees surveyed said they'd recommend the company to a friend.
What awards and accolades have the company received?
For 2019, State Farm was awarded a place on several employment best-of lists:
Top 100 Military Friendly Employers (G.I. Jobs Magazine)
100 Most Admired Companies (Fortune Magazine)
Top Companies for Executive Women (National Association of Female Executives)
Corporate Equality Index 100/100 for LGBTQ employment (Human Rights Campaign)
In 2018 they also won several awards, many for diversity:
Top Company for Women Technologists (AnitaB.org)
The Best Companies for Latinas (Latina Style magazine)
Best Companies for Diversity (Black Enterprise magazine)
Best Companies for Multicultural Women (Working Mother magazine)
Does the company offer cheap car insurance rates?
State Farm isn't generally seen as the cheapest car insurance company, and they don't advertise that way. They've always focused more on what they offer in terms of service and coverage than on their rates.
That doesn't mean State Farm is expensive and you could still see a low monthly premium, especially thanks to the wide variety of discount opportunities.
Like all insurance companies, rates vary quite a bit depending on where you live and based on rating factors like your driving record. Next, we'll take a look at average rates for State Farm based on several scenarios, and compare them to other top companies.
State Farm Car Insurance Rates By State
The numbers below show State Farm's average rate in each state, and how it compares to the overall average cost of car insurance in that state.
State Farm only comes in above average in nine states and is below average in the rest.
The cheapest state to choose State Farm as your car insurance provider is in Hawaii, where they come in 145% below average. They're also well below average (more than 100%) in Minnesota and Rhode Island.
New Jersey and Vermont are the most expensive states with rates about 26% above the average auto insurance premium in both.
State By State Comparison By Company
Below you will find rates for the top ten companies in each state, State Farm among them. State Farm frequently out prices even the companies that advertise themselves as the cheaper option – like GEICO and Progressive.
Commute Rates
Commute distance can have some effect on your car insurance rates, but it might not be as much as you think. Here's a comparison of two different commute distances at State Farm.
In spite of more than doubling the commute distance and exactly doubling annual miles, the rate doesn't increase much.
Coverage Level Rates
Everyone wants the best coverage they can afford, but many people choose a lower coverage level because they are worried about the cost.
State Farm's rate increases about $400 a year to go from low to high coverage. That's about $33 a month for much better coverage – less than you might think.
Credit History Rates
Most states allow the use of credit history as one of the rating factors for car insurance.
State Farm might not be the cheapest option if you have poor credit. Their rates more than double for a person with poor credit compared to someone with good credit.
Driving Record Rates
Few things impact your car insurance rates as much as your driving record. Tickets, accidents, and DUI convictions are all going to do some damage to your insurance bill.
Every company differs in terms of how much weight they place on things like a speeding ticket or an at-fault accident. At State Farm, the biggest increase is for a DUI.
What types of coverages are offered?
State Farm is a one-stop-shop for your insurance needs and covers all the bases.
Types of Additional Coverage Other Than Auto
In addition to auto, State Farm writes just about any form of personal insurance you could want. That includes the other big two, homeowners insurance and life. And most people don't know but they also write Medicare.
You can bundle homeowners insurance with your car insurance for a discounted rate on both. That doesn't just apply to a single-family homeowners insurance policy, but also to renters or condo owners' policies.
The company will also give you an auto insurance discount on your State Farm policy if you also have a life insurance policy in force.
Types of Auto Insurance Coverage
State Farm offers all of the coverage you would expect from the top car insurance company in the nation. That includes all of the basics and add-ons to customize coverage.
To start, a State Farm policy provides all of the legally required coverage for your state. What that entails depends on where you live, and will include some combination of these:
Bodily Injury Liability
Property Damage Liability
Personal Injury Protection (PIP)
Medical Payments (MedPay)
Uninsured/Uninsured Motorist (UM/UIM) Bodily Injury
Uninsured/Underinsured Motorist Property Damage
Read more: How does the car insurance claims process differ for uninsured/underinsured motorist coverage with State Farm?
State Farm offers a range of limits for these coverages, starting at the state legal minimum and increasing from there. Each driver can choose the coverage limits that meet their needs and budget.
Coverage options can then be added to round out the policy. State Farm doesn't have a lot of gimmicky choices and tends to stick with the most popular options.
Collision
Comprehensive
Roadside Assistance
Car Rental and Travel Expenses
That's a pretty short list of options and doesn't include things like gap coverage or mechanical breakdown. We'll look at some other available options shortly.
What is the company's area of operation?
State Farm writes car insurance in all 50 states and the District of Columbia.
Coverage options and discounts do vary by state, so make sure you look at the details for your state specifically when shopping.
Are there any additional programs?
State Farm has some other options and programs to provide specific protection, to reduce rates, and to make claims easier.
Ridesharing coverage is available in a selection of states. This is designed to provide special coverage to those that drive for a company like Uber or Lyft. It fills in the gaps between your personal insurance and the coverage provided by the rideshare company.
Drive Safe and Save is State Farm's usage-based program. It uses either a mobile app or the OnStar system in your vehicle, if available. Like the programs offered by other companies, it records your driving habits and calculates a discount for you based on the results.
Unlike other programs, Drive Safe and Save doesn't have a limited time period for data collection. It's ongoing, which means a new discount is calculated at each renewal.
Steer Clear is State Farm's app-based program for younger drivers. Like the Drive Safe and Save program it records trips and looks for specific activities. It also includes a component to help young drivers improve by watching videos and taking quizzes.
This program lasts six months and is for drivers 25 and under. After six months a discount is earned for successful completion of the program.
Select Service is State Farms preferred repair shop network for claims. Shops in the program meet specific standards and guarantee their work.
What kinds of discounts are available?
Like everything else about their car insurance, State Farm's discounts avoid the trendy options and tend to stick to basics.
Here's a look at the discounts State Farm gives and how much they can save you on your car insurance.
State Farm's discount programs are really focused on safe driving and customer loyalty. There are quite a few ways to lower your rates by improving your driving habits. Notable, in particular, are the multiple available discounts for young drivers.
Consider the situation of a young driver whose parents have been insured with State Farm for some time, are good drivers, and have multiple policies in force. Add to that the Steer Clear program, good student, and driver training discounts. That can all put a nice dent in those scary new driver rates.
How do I make a State Farm insurance claim?
Claims are really the test of an insurer, so most companies make an effort to advertise a great claims experience.
Premiums Written and Loss Ratios
Next, we will look at how to make a claim with State Farm – but first, let's talk about loss ratios.
Loss ratios are an indication of how much a company pays out in claims compared to the amount they earn in premiums, which also indicates the financial strength of the insurer.
You want an insurer that pays claims. What you don't want is a company that's paying out more than it takes in. That's bad news for the company's ability to pay in the future.
A loss ratio over 100% indicates just that – the company is paying out more than they've taken in.
But you don't want a number that's too low, either. That's because a low loss ratio indicates the company isn't paying out as it should.
Here's a look at State Farm's loss ratios over three years for auto insurance.
Loss ratios took a bit of a jump in 2016, but that seems to have been an anomaly, as they went right back down to the 2015 level. The industry total loss ratio for 2017 was 68.79%. That means State Farm is about average.
Ease of Making a Claim
There are a number of ways to file a claim with State Farm.
First, you can do it the old-fashioned way, by calling your agent directly.
Alternately, if it's after hours or you need immediate assistance, you can call the 24/7 claims line directly at 800-SF-CLAIM (800-732-5246).
If you prefer a more modern approach, State Farm has both online claim filing on the company website, and mobile filing through the app. We'll talk more about the app later.
State Farm's options for claims filing are right on top of the industry.
You can also track a claim on the website or through the app to keep on top of things.
State Farm Insurance Digital and Technological Features
Mobile App Features and Functionality
State Farm offers a robust mobile app that enhances the customer experience. The app provides features such as easy access to policy information, the ability to file and track claims, and even tools for roadside assistance. With a user-friendly interface, the State Farm mobile app simplifies insurance management on the go, making it a valuable resource for policyholders.
Online Account Management Capabilities
State Farm's online account management capabilities empower customers to take control of their insurance policies. Through their website, policyholders can access and update their policy details, make payments, view billing statements, and request policy documents.
This online platform offers convenience and transparency, allowing customers to manage their insurance accounts efficiently.
Digital Tools and Resources
State Farm Insurance provides policyholders with a range of digital tools and resources to make informed decisions about their coverage. These resources may include insurance calculators, educational articles, and guides on various insurance topics. By offering these digital resources, State Farm aims to empower customers with the knowledge they need to understand their insurance options and make informed choices.
How can I get a State Farm insurance quote online?
You can start a State Farm quote for car insurance right from the main page of the website, or from the auto insurance page. The site even has a convenient checklist of items to have on hand when quoting to improve the customer experience.
After entering your zip code, you will then be asked to enter your full name, address, and date of birth.
The system will search for vehicles associated with your address. You can select from the listed choices or enter your vehicle information manually. For each vehicle, you will be asked for usage information among other details.
The system will also find drivers associated with your address to be added to the quote. You can add additional drivers individually.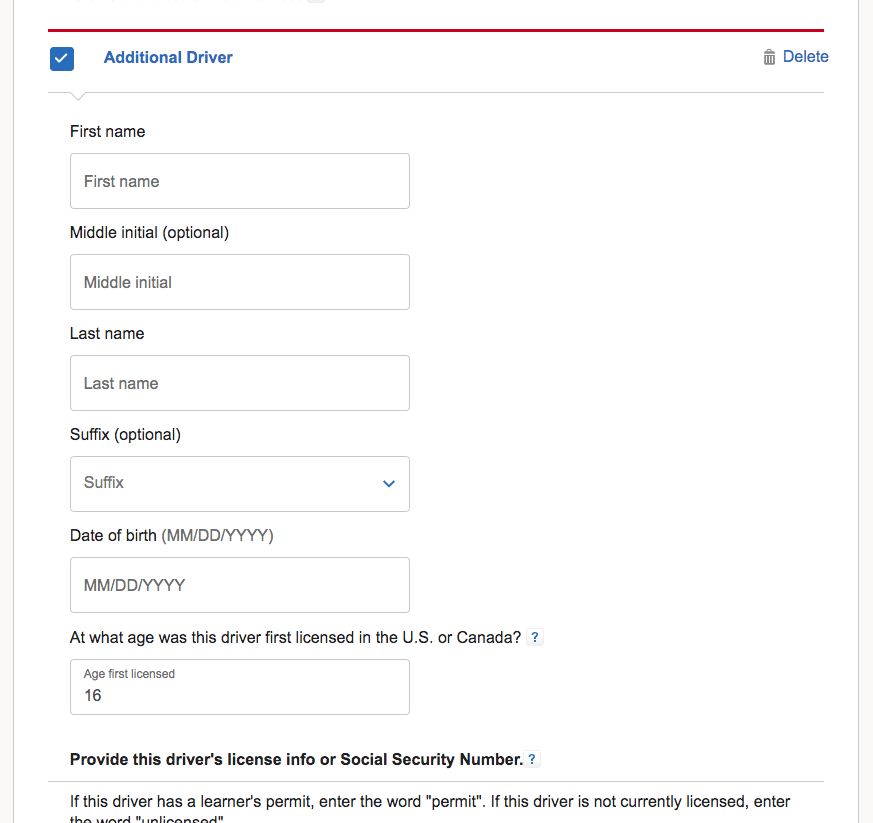 The next step covers the driving history of the drivers in your household.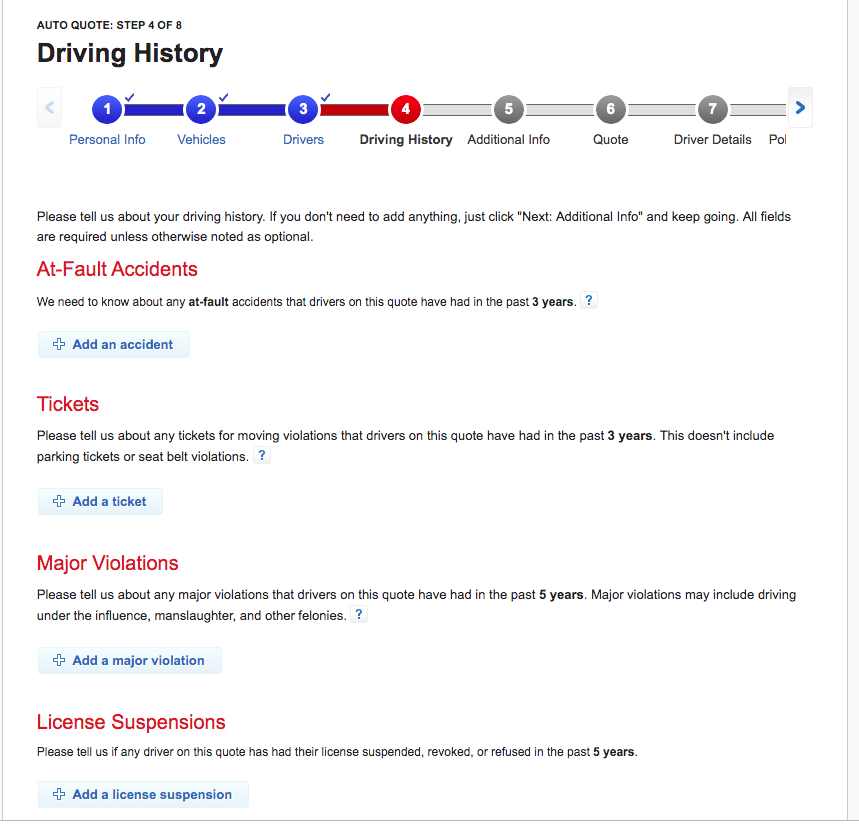 In the next step, you will be asked to provide some additional details, and then asked for an email address and phone number. The phone number is optional and will result in solicitation calls. You do need to enter an email address.
In the final step, you will be given quotes at three levels of coverage. You can then customize the quoted options to adjust liability limits, deductibles, and add-ons.
Here's the personal information you will need to get a quote with State Farm. In order to apply for coverage, you will need to provide all of this information. Bear in mind that quotes aren't accurate until you provide all the necessary personal information.
Are the website and app easy to use?
State Farm's website has a clean layout with easy to access menus. From the top of the page, the visitor can quickly navigate to the most popular categories, including product information, quoting, bill payment, and claims.
Simple image-based links to product categories are also on the front page, and there's a quick quote box as well.
The site loads quickly and makes it easy to find whatever you are looking for. They also have a comprehensive resource area that helps with everything from understanding insurance to learning about car maintenance.
State Farm's entry into the mobile app world with Pocket Agent® was met with early difficulties based on login connectivity and setup issues.
The company believes the newest version corrects those bugs, but early users suggest some inconsistency still exists.
Device Availability
Pocket Agent® is available on iPhone, iPad, Android, Kindle Tablet.
App Features
After registering on the State Farm website, Pocket Agent allows customers to:
Contact their agent or search for an agent
View their insurance policy information
View their insurance card (does not meet proof of insurance in some states)
Submit an auto claim
Find roadside services
Search for a Select Service repair facility
View the claim status for a fire or auto claim
Pay their bill State Farm Insurance
All State Farm Insurance policies are available on the app, as well as State Farm Bank and State Farm Mutual Funds account information.
With a State Farm Bank account, customers can deposit checks into the account with MyTime Deposit, pay bills with mobile bill pay, pay their credit card, and transfer funds from one eligible State Farm Bank account to another.
To view personal information, make a bank deposit, submit or view a claim online, or make payments, the viewer:
Must be a State Farm customer.
Must be enrolled and registered on www.statefarm.com.
What it can't do:
Although auto insurance policy claims can be initiated on Pocket Agent®, all other claims including homeowners policies, business, health, disability, long-term care, and life must start on the website or go through an agent.
The app does not currently have the capacity to provide quotes on new policies.
Even though State Farm's marketing suggests that non-clients can use some of the location features, users must be willing to register at statefarm.com to use any element of the app.
Google Play / iTunes / Amazon Reviews
Google Play: 4.2 rating based on 8,520 reviews. A large number of negative reviews cite login difficulties, both in setup and in execution.
iTunes: The current version has 2.5 stars based on 11 reviews. For all versions, the average is three stars based on 6010 ratings.
Amazon Kindle: 4.2 stars based on 44 customer reviews. Download Here
Pros:
Manage and pay your bill
Deposit checks
Transfer money
Submit an auto policy claim
Cons:
No quotes
Only auto insurance claims can be initiated
Users must be registered
If you are an auto insurance, mutual fund, or State Farm Bank customer, Pocket Agent® will make your life a little easier; but for other State Farm customers, downloading the app at this stage is probably not worth your time unless you can foresee a need for policy information "on the go" that you couldn't wait to log into the regular website for. There is certainly room for improvement on this app.
What are the pros and cons?
Like all of the insurance coverage choices out there, State Farm has some good points and some not-so-good points. Here's a simple breakdown of the pros and cons of choosing State Farm for your car insurance.
What's the bottom line?
State Farm is a big, solid company that has been at the top of the pack for a long time. They offer reasonable rates on various types of insurance and straightforward coverage options.
They're a good choice if you are looking to bundle and want a combination of personal service along with good value for the money, but aren't a great choice if you have poor credit or a lot of dings on your driving record.
FAQs – State Farm Insurance
Do I have to choose an agent or can I handle my policies on my own?
With State Farm, all policies are assigned to an agent. You can either choose your own agent or let the system select one nearby for you.
You'll see a selection of nearby agents during the quote process. State Farm's website and mobile app allow you to perform most tasks without needing to get in contact with your agent.
Does Drive Safe and Save always give a discount?
Yes. State Farm only uses the system to calculate discounts and won't increase your rates no matter what the app records. Not everyone will receive a large discount, but the program calculates a discount for all participants.
Does State Farm offer Accident Forgiveness?
Yes, but not as an add-on or policy option. State Farm won't increase your rates for a first at-fault accident if you have been with the company for nine years without an accident.