Best Auto Insurance for South Carolina
The best auto insurance for South Carolina would be a company that offers a combination of a great auto insurance product that also comes at a great price. Geico, State Farm, and Farm Bureau are some of the top choices for value and service.
Free Car Insurance Comparison
Compare Quotes From Top Companies and Save
Secured with SHA-256 Encryption
UPDATED: Jun 1, 2022
It's all about you. We want to help you make the right coverage choices.
Advertiser Disclosure: We strive to help you make confident insurance decisions. Comparison shopping should be easy. We are not affiliated with any one insurance provider and cannot guarantee quotes from any single provider.
Our insurance industry partnerships don't influence our content. Our opinions are our own. To compare quotes from many different insurance companies please enter your ZIP code on this page to use the free quote tool. The more quotes you compare, the more chances to save.
South Carolina's auto insurance rates fall in the mid-range when compared to rates nationwide. For 2017, the average rate in the state landed a just under the national average, beating it by around $30. Of course, not everyone pays the average rate, so South Carolina drivers are likely to find rates that vary greatly and lots of options to find a better deal.
The Basics of Auto Insurance in South Carolina
South Carolina car insurance laws are similar to those found in other states, with a legal minimum amount of coverage required in order to be on the road. The state requires that you carry $25,000 per person and $50,000 per incident for bodily injury liability, and $25,000 in property damage liability. These minimum requirements for an auto policy are commonly found in most states.
Additionally, South Carolina law mandates uninsured motorist coverage with limits matching the liability minimums – $25,000 per person, $50,000 per incident for bodily injury and $25,000 in property damage liability. This coverage has a $200 deductible. The required coverage is uninsured motorists only – drivers are not required to carry underinsured motorist coverage, although insurance companies are required by law to offer it to everyone.
There is no other coverage that is required by law in South Carolina, but anyone with a loan or lease on their vehicle should check with the financial institution regarding requirements in the loan/lease agreement. In most cases, you will be required to carry comprehensive coverage and collision coverage to protect the car itself in the event that you are at fault in an accident. Some institutions may have further requirements placed on your insurance policy, so make sure you meet them all.
Are you looking for free insurance quotes?
Your one-stop online insurance guide. Get free quotes now!
Secured with SHA-256 Encryption
Specifics of South Carolina Auto Insurance Insurance
Although South Carolina's car insurance laws are similar to other states and fairly straightforward, it is worth noting that it is not a no-fault state. South Carolina uses a tort system for handling financial responsibility in car accidents.
That means that you can be held financially responsible in court if you are found to be at fault in an accident. You can be sued for damages, and if they exceed the liability limits on your policy you can be required to pay the balance out of pocket.
This type of system makes it very important to carefully consider how much coverage you carry on your South Carolina auto insurance policies.
Our Process
Our number one goal for choosing the best car insurance companies in South Carolina is to make sure every company we recommend meets our standards of value. That means that the company offers a combination of a great auto insurance product that also comes at a great price.
Since price is not everything when it comes to insurance, the third aspect of real value is that the company has to offer great service. All of our top picks have earned high ratings from trusted consumer reporting agencies, and also pass our own review of customer complaints and comments. This means that these companies back their policies with excellence in customer service and especially in claims handling, which is where a car insurance company shows its true colors.
In order to make our recommendations useful to as many South Carolina residents as possible, we restricted our choices to companies that cover the entire state and to those that do not have specific eligibility requirements. USAA is always a noteworthy choice, but as they only cover military members and their families they do not meet our requirement for being open to the general public.
Our Top Picks
Who has the best auto insurance rates in South Carolina? Our top picks for South Carolina car insurance all offer a great value, with a winning combination of price, service, and coverage.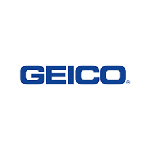 Geico
Ranked in the top three for the region by J.D. Power, Geico is a clear winner for South Carolina drivers. They have solid ratings across the board for service and a growing reputation that has made them the second largest car insurance company in the country.
Part of that reputation is for great rates, and Geico comes through in South Carolina with some of the lowest premiums across the board – that means for all kinds of drivers and in various parts of the state.

State Farm
With competitive rates, the personal attention of an agent, a solid customer service record, and standing as the biggest car insurance company in America, State Farm is a great choice. South Carolina drivers will find that they often have rates that are very affordable, and those rates can be even better if you insure your home as well for that bundling discount.
State Farm is a great choice for most drivers, although, as with most companies, drivers with clean records get the best price. They are the biggest for good reason – State Farm consistently ranks well in customer satisfaction.

Farm Bureau
Farm Bureau's South Carolina branch offers good rates across the state and even comes in competitively for people with less-than-perfect driving records. They are known for giving a local feel to their companies while still having the financial backing of a large company.
Farm Bureau's companies also rank well in customer satisfaction and claims handling, giving them the reputation to back their policies. They have a comprehensive auto program that's not just for farmers – coverage is available to all South Carolina drivers.
Are you looking for free insurance quotes?
Your one-stop online insurance guide. Get free quotes now!
Secured with SHA-256 Encryption
Shopping for Car Insurance in South Carolina
South Carolina's minimum limits will get you on the road legally, but even with a higher-than-normal property damage limit, they are unlikely to be enough in anything more than a minor accident. Before you shop for car insurance, take the time to give serious thought to what kind of limits you want to carry. Higher limits do not usually cost a lot more, and they can save you an incredible amount in the event of a serious accident. While average costs vary, ask about any discounts that might apply to you. Safe driver discounts, for having a clean driving record, are common.
Gather quotes that all include the same coverage – that means the same limits and the same deductibles along with equal optional coverage you choose to add, like rental car coverage or roadside assistance. Doing this ensures that every quote you compare is apples-to-apples, rather than trying to compare rates on wildly different policies. Remember that additional coverage options will affect the cost of your auto insurance coverage.
If a rate seems so low or so high as to be out of line with the rest by far, be sure to double check the coverage. Some companies will quote automatically at the legal minimum so that the rates for drivers appears to be very low.
It is a good idea to combine internet research with the assistance of an insurance agent. This is because it's easy to miss a smaller South Carolina insurance company that might be the best choice for you if you rely only on internet quotes. A local agent may be able to help you find the cheapest companies you were unaware of, but also make sure you do your own research into their reputation before you buy. Take time to check a company's customer satisfaction ratings before make your insurance choice.
The Bottom Line
South Carolina drivers have plenty of options to choose from for their car insurance, and it is easy to find a better-than-average rate with a little extra effort. Although it is the big names that tend to reign supreme in the state, they are not the best choice for everyone. Take the time to explore as many options as you can to find what's right for you.

Are you looking for free insurance quotes?
Your one-stop online insurance guide. Get free quotes now!
Secured with SHA-256 Encryption
Are you looking for free insurance quotes?
Your one-stop online insurance guide. Get free quotes now!
Secured with SHA-256 Encryption
Editorial Guidelines: We are a free online resource for anyone interested in learning more about insurance. Our goal is to be an objective, third-party resource for everything insurance related. We update our site regularly, and all content is reviewed by insurance experts.