Best Nebraska Auto Insurance
To find the best Nebraska auto insurance, you need to know what the Nebraska auto insurance requirements are. Nebraska auto insurance laws require minimum liability insurance to drive. Follow this guide to find the best auto insurance rates in Nebraska.
Free Car Insurance Comparison
Compare Quotes From Top Companies and Save
Secured with SHA-256 Encryption
UPDATED: Jun 1, 2022
It's all about you. We want to help you make the right coverage choices.
Advertiser Disclosure: We strive to help you make confident insurance decisions. Comparison shopping should be easy. We are not affiliated with any one insurance provider and cannot guarantee quotes from any single provider.
Our insurance industry partnerships don't influence our content. Our opinions are our own. To compare quotes from many different insurance companies please enter your ZIP code on this page to use the free quote tool. The more quotes you compare, the more chances to save.

Nebraska drivers pay a little less than the national average for their car insurance, although rates can vary widely. Finding the best car insurance for Nebraska is about more than just the lowest rate, however – great car insurance provides real value from a combination of coverage, service, and rates.
The Basics of Auto Insurance in Nebraska
Nebraska has financial responsibility laws in place to ensure that all drivers are responsible for injuries or damage for which they are responsible while driving. The law requires all drivers to carry an insurance policy with liability limits of $25,000 per person and $50,000 per incident for bodily injury. An additional $25,000 is required for property damage liability.
Other than an insurance policy, drivers can provide proof of financial responsibility by providing a bond or certificate of deposit in the amount of $75,000 as an aggregate amount for both types of liability.
The law does not require drivers to carry any other types of coverage. If there is a loan or lease on the vehicle, however, the lienholder or lessor will have their own set of requirements for insurance in order to protect their interest in the vehicle. This usually means that the driver will also have to carry collision coverage and comprehensive coverage to pay for damage or theft of the vehicle itself in a situation where another driver cannot be held responsible for the damage.
Some leases also have requirements on the amount of liability they require the driver to carry, and both loans and leases may have limits on the amount of the deductibles on the policy.

Are you looking for free insurance quotes?
Your one-stop online insurance guide. Get free quotes now!
Secured with SHA-256 Encryption
Are you looking for free insurance quotes?
Your one-stop online insurance guide. Get free quotes now!
Secured with SHA-256 Encryption
Specifics of Nebraska Auto Insurance
There are no laws specific to Nebraska when it comes to car insurance that differs from the laws seen in most other states. As a state with a great deal of agriculture, however, it is worth noting that coverage and policies for farm vehicles usually differ from those offered on personal use vehicles. It is always a good idea to check on what kind of coverage a vehicle needs depending on its use.
Nebraska does not have no-fault laws, which means that they are a tort state. In this sort of system, drivers can be sued when they are at fault in an accident, and they can be held personally responsible for all damages done, including for pain and suffering.
This sort of system highlights the need to carry higher liability limits than those set out in the state law. In a serious accident, those limits will be very quickly exhausted, after which the courts can look to you personally to pay the remainder. That can add up to tens of thousands of dollars very quickly.
Our Process
Our main goal when selecting the best car insurance companies for Nebraska drivers is to offer the best overall value. This means not just the least expensive rates, but the best combination of low rates, a good reputation for customer service, and great products. Even budget shoppers should always consider the company's reputation for claims handling; that low rate does not mean much if the company does not pay claims when you need it.
Each of the companies we chose ranks well in consumer reviews and has good ratings in consumer satisfaction surveys. Claims handling is a particular area of interest as it really is the most important aspect of customer service for an insurance company – it is why you pay them.
Of course, rates are a big factor, and for many people on a tight budget, they are the biggest factor. All of our choices have highly competitive rates, even for those without the best record.
Finally, we chose to recommend companies whose doors are open to all Nebraskans. That means we left out some great companies like USAA – which we definitely recommend to those who do qualify – for the sake of ensuring our picks are useful to the largest portion of the state's population. All of our picks can provide coverage whether you're out on the farm or in Omaha.
Our Top Picks
These three companies earned high marks for customer service, and they also offer reasonable and affordable rates for comprehensive coverage.

Shelter Insurance
Shelter Insurance took J.D. Power's top award for 2018 for customer satisfaction in the region, ensuring they have a solid reputation and can be trusted to take care of customers when the chips are down.
Shelter also offers competitive rates to Nebraska drivers; with the discounts offered and in particular the bundling option with auto and home insurance together, the rates can be reduced even further. That makes Shelter a top value in Nebraska car insurance.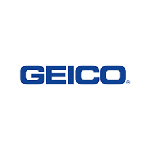 Geico
The second largest car insurance company in the nation, Geico ranks number three on the regional satisfaction survey, with solid ratings across the board. Their growth in recent years has reflected an ongoing commitment to customer satisfaction that is upheld by the ratings.
Geico also happens to be one of the least expensive if not the cheapest options for car insurance for many Nebraska drivers. Their rates are consistently competitive across the board, even for drivers with a less than perfect record.

State Farm
State Farm ranks well in the regional satisfaction surveys as well as in the national level claims satisfaction survey. They are the top car insurance provider in the country for good reason – they keep their promises and consistently maintain a good reputation.
Although they are often seen as an expensive car insurance company, that view does not hold water when it comes to actual rate comparisons. State Farm's rates for Nebraska drivers are very competitive, and they have some excellent bundling discounts as well.
Are you looking for free insurance quotes?
Your one-stop online insurance guide. Get free quotes now!
Secured with SHA-256 Encryption
Shopping for Car Insurance in Nebraska
Nebraska's legal minimums are in line with what most states require, but that does not make them sufficient. In a serious accident, those limits will be exhausted quickly, leaving the driver legally responsible for the bill. This means that considering higher limits is important in protecting yourself financially from the cost of an accident. In most cases, increasing limits by a level or two really is not much more expensive, and it is well worth it.
Before you shop, take the time to decide what limits you want to carry, and also to decide on deductibles. This not only makes shopping easier and makes you less susceptible to sales pitches and gimmicky upgrades you do not need. It can ensure that every quote you get will be for the same coverage. That makes quotes easier to compare to each other.
The best choices for car insurance in Nebraska include both agent-driven companies and direct buy insurance. If you prefer to work with an agent, it is always worth reaching out to an independent agent to get information and quotes from lesser-known insurers. Sometimes those that fly under the radar can offer excellent value.
The Bottom Line
Nebraska drivers can get great rates and excellent coverage from some of the best-rated insurance companies in the state as well as in the country. Since rates vary so greatly from person to person, however, we highly recommend taking the time to compare as many companies as possible before making a final decision. What is best for one Nebraska driver may not be best for another.

Are you looking for free insurance quotes?
Your one-stop online insurance guide. Get free quotes now!
Secured with SHA-256 Encryption
Are you looking for free insurance quotes?
Your one-stop online insurance guide. Get free quotes now!
Secured with SHA-256 Encryption
Editorial Guidelines: We are a free online resource for anyone interested in learning more about insurance. Our goal is to be an objective, third-party resource for everything insurance related. We update our site regularly, and all content is reviewed by insurance experts.