USAA Insurance Review & Complaints: Life, Home, & Auto Insurance (2023)
USAA insurance has an A++ financial rating from AM Best. USAA insurance has a B- customer service rating from the BBB. Consumer Reports gave USAA an overall rating of 95 out of 100. Read our USAA insurance review to learn more.
UPDATED: Nov 10, 2023
Fact Checked
Free Auto Insurance Comparison
Compare Quotes From Top Companies and Save
Secured with SHA-256 Encryption
Michael Leotta
Insurance Operations Specialist
Michael earned a degree in Business Management degree with an insurance focus, which led to a successful 25-year career in insurance claims operations and support. He possesses a high-level of business acumen across multiple areas of the insurance industry. Over the course of his career, he served in multiple roles supporting claims operations including: Claims Specialist, Claims Trainer, Claim Au...
Insurance Operations Specialist
UPDATED: Nov 10, 2023
It's all about you. We want to help you make the right coverage choices.
Advertiser Disclosure: We strive to help you make confident insurance decisions. Comparison shopping should be easy. We are not affiliated with any one insurance provider and cannot guarantee quotes from any single provider.
Our insurance industry partnerships don't influence our content. Our opinions are our own. To compare quotes from many different insurance companies please enter your ZIP code on this page to use the free quote tool. The more quotes you compare, the more chances to save.
Editorial Guidelines: We are a free online resource for anyone interested in learning more about insurance. Our goal is to be an objective, third-party resource for everything insurance related. We update our site regularly, and all content is reviewed by insurance experts.
UPDATED: Nov 10, 2023
It's all about you. We want to help you make the right coverage choices.
Advertiser Disclosure: We strive to help you make confident insurance decisions. Comparison shopping should be easy. We are not affiliated with any one insurance provider and cannot guarantee quotes from any single provider.
Our insurance industry partnerships don't influence our content. Our opinions are our own. To compare quotes from many different insurance companies please enter your ZIP code on this page to use the free quote tool. The more quotes you compare, the more chances to save.
On This Page
UPDATED: Nov 10, 2023
Fact Checked
USAA insurance is consistently ranked and rated as one of the best car insurance companies out there, as well as one of the best for term life insurance policies, business insurance coverage, renters insurance, and more. If you're eligible to be a member of USAA, they offer car insurance coverage that's hard to beat.
Read our USAA insurance review to learn everything you need to know about the company before getting an insurance policy as a member of an eligible family. The first thing we'll examine is how USAA ranks by these independent and well-respected agencies. And enter your ZIP code above to get a FREE quote today.
Is it accredited with the Better Business Bureau?
USAA is not accredited with the Better Business Bureau (BBB). Part of the reason behind USAA's less-than-stellar rating with the BBB is two recent government actions against the company.
In the issue of The Bureau of Consumer Financial Protection Office verses USAA, it was found that USAA violated the Electronic Funds Transfer Act.
USAA entered into a Consent Order following The Comptroller of the Currency verses USAA. The Comptroller of the Currency alleges that USAA did not implement and maintain an effective risk management program.
These are two major actions showcasing USAA's lack of compliance with the law. In both cases, USAA has implemented the required actions to enter into compliance.
What's the Moody's rating?
While Moody's gave their highest financial rating of Aaa to USAA, they changed the outlook from stable to negative. This change is based on USAA's recent lack of compliance in implementing a risk management program.
Even though this government action was against the banking division of USAA, its repercussions can be felt in all divisions of the company.
What's the S&P rating?
Standard and Poors handed out an excellent financial rating and a stable outlook rating to USAA. This is good news for the company as other credit rating agencies' outlooks aren't so good.
What is the NAIC Complaint Index?
The National Association of Insurance Commissioners (NAIC) collects insurance complaint data and publishes it each year. In 2017, USAA's complaint index was 0.74. With a national median index of 1.0, USAA came in with quite a bit lower complaint statistics than the median.
Fewer than average complaints is always a good sign for an insurance company.
USAA can't make everyone happy. No insurance company can. But if a company consistently receives a high ratio of complaints, that's an indication of a real problem and unfair treatment of customers.
What's the J.D. Power score?
In a claims satisfaction study, USAA earned five out of five stars. Erie Insurance is the only company to score higher than USAA in this study, according to J.D. Power.
Each year, J.D. Power also collects data and uses that to assign car insurance companies an overall customer satisfaction rating. In 2019, USAA received the highest score for overall customer satisfaction in every region except the Southeast where they came in second.
How does Consumer Reports rate the company?
Consumer Reports rated USAA 95 out of 100 which is the second-highest score. The score is based on
Ease of reaching an agent
Simplicity of the process
Promptness of response
Damage amount
Agent courtesy
Timely payment
Freedom to select a repair shop
Being kept informed of claim status
In each of these subjects, USAA earned an excellent rating.
What is the Consumer Affairs rating?
Consumer Affairs ratings tend to be lower than anyone else's ratings. They are based on customer reviews. Customers with normal experiences usually don't write reviews. However, when a person is upset, they look for places to blast with their story.
Even still, USAA performs lower according to Consumer Affairs than many of its competitors.
This one and a half star rating is based on 266 reviews in the last year. If you want to find out what unsatisfied customers have to say about USAA, Consumer Affairs is the place to start.
Now that you've seen the good and bad ratings, compare them all in this summary.
What's the company's history?
USAA started a bit differently than the typical insurance company. Most car insurance companies began when a business decided to sell insurance for automobiles. It's pretty obvious that that is how you'd start a car insurance company.
In 1922, 25 army officers were unable to find car insurance. They were viewed as too high of a risk to insure because they were in the army. Those 25 men came together and decided to insure each other as a mutual group.
Not long after, they sold their first policy to another officer, and in 1923, they began offering policies to officers of the Marine Corps and Navy.
In 1924, they changed their name from the United States Army Automobile Association to the United Services Automobile Association, as it is still called today. The company also offers insurance products like life insurance, renters insurance, homeowners insurance, personal property insurance, rideshare insurance, and more. They also provide many auto insurance discounts, but these options and their lower auto insurance premiums are only available to military personnel and their families.
What's the company's market share?
Over recent years, USAA's market share has been creeping up on six percent.
It is remarkable that USAA is the fifth largest private passenger auto insurance provider in the country and their market share is growing even though they only offer policies to members and former members of the military and their dependents.
What's the company's business model?
They are member-owned. This business model is a huge benefit to their members because instead of having to answer to shareholders, it answers to its members.
They have very few physical offices, so most interactions happen over the phone or online.
If you're interested in a policy, check out their website and get a quote. If it looks competitive with other companies on your short list and you decide to purchase a policy, you can do so online.
You can speak with a virtual agent online or call and speak to an agent on the phone.
Are the company's commercials memorable?
USAA focuses on making its ads sincere because they believe their client-base (military) will see right through something fake.
But how do I qualify for USAA insurance?
In 2008, retired military became eligible for membership, and, according to USAA's website, in 2009, "all men and women who are serving or have honorably served in the U.S. military and their families become eligible for membership." With this new, much larger client-base, USAA began a successful marketing campaign and also became the main sponsors of the Army-Navy football game.
With strategic marketing practices, USAA was able to achieve equal exposure as other insurance companies while spending significantly less on advertising.
Does the company do any community service?
USAA is committed to serving the military, not just through their member services for active duty members, but also through grants and volunteer hours supporting their national focus and local focus.
Their national focus is military family resiliency and includes these aspects:
Military Caregivers; Families of the Fallen; Wounded, Ill, and Injured Service Members; and Military Children
Financial Readiness for Military Families
Fulfilling Careers for Veterans and Military Spouses
USAA is committed to serving the communities in which they have offices. They have offices in the following cities:
San Antonio, Texas
Chesapeake, Virginia
Colorado Springs, Colorado
Dallas, Texas
Phoenix, Arizona
Tampa, Florida
Their local community focus includes:
Families in Need
Education
Safety and Natural Disaster Response
What's USAA's position for the future?
Before the two recent government action against USAA and their subsequent settlements, USAA had no negative outlook. These issues, however, have added some unknown to the company's future position.
Moody's ratings changed its outlook for USAA from stable to negative. Other rating companies' haven't changed their future outlook rating for USAA.
USAA has settled the government actions and is participating in making the mandatory changes as part of those settlements.
The company is the fifth-largest insurer of private passenger automobiles. Their current financial standing is universally rated as excellent. These current problems, if addressed properly, will likely serve as a hiccup that will be forgotten within a few years.
Are USAA employees happy?
You've heard the saying, "It starts at the top." Well, it's true. If a company treats its employees well, you, as the consumer are more likely to have a positive experience.
USAA's employees are pretty happy with their workplace. Eighty-nine percent say it is a great place to work.
What's the average employee age?
Here's the breakdown of employee age groups:
Millennials – 41 percent
Gen X – 42 percent
Baby Boomers – 17 percent
Here's a visual of the generational grouping of USAA employees.
How long is employee tenure?
How well does USAA retain employees?
Is the employee experience positive?
According to Great Place to Work, 89 percent of employees say USAA is a great place to work. Also,
96% – When you join the company, you are made to feel welcome.
95% – I feel good about the ways we contribute to the community.
93% – I'm proud to tell others I work here.
92% – Our facilities contribute to a good working environment.
92% – We have special and unique benefits here.
What awards and accolades has the company received?
USAA has been recognized nationally as among the best places to work in the US. Below you'll find a sampling of their awards.
Fortune 100 Best Places to Work
Satmetrix Net Promoter Benchmark Study — Highest Score
World's Most Ethical Companies
Forbes The Best Employers for Diversity (2018-2019)
Gallup Great Workplace Award (2014-2018)
Military Friendly Company Top 10 Employer (2017-2019)
Military Times Best for Vets Employer (2012-2018)
Is USAA cheaper insurance?
The financial stability and customer service ratings of an insurance company are very important. But let's face it. What probably matters to you most is competitive rates.
We'll show you USAA compares to other companies next. You'll also see how your personal information and history make a difference in how much you'll pay with USAA.
USAA auto insurance is available in every state. In our survey, we were unable to acquire information regarding pricing for the following states: North Carolina, New Jersey, and South Dakota.
We partnered with Quadrant Data Solutions to bring you this data. The figures you see below are averages and you can expect your personal quotes to vary. Think of these as a starting point for digging deeper.
Car Insurance Rate Comparison to USAA by State
Notice that there are very few minus signs. There are only a few places where rates are cheaper from certain other companies. You should always do a comparison search because while USAA tends to be cheaper than the competition, it is not always so.
Your situation plays a huge role in how much you'll pay, so you may find your personal sample quotes differing quite a bit from those listed above.
How are USAA's
rates

compared to state averages?

USAA is the only company that is universally cheaper with their coverage options than the state average. You may be able to find a company that has a lower rate, but most companies will be more expensive.
What are the commute
rates

?

More time on the road means more time to get into an accident. More risk of an accident equals higher car insurance. Hawaii is the only state where how much you pay with USAA won't change based on your commute.
California, because of their insurance laws and what they can and cannot base rates on, has the biggest difference in annual rates based on commute. The longer commute could cost over $420 more per year.
What are the coverage level
rates

?

The higher your coverage level, the more you'll have to pay. That just makes sense. The graph puts the figures into perspective. In most cases, you can still get an affordable rate if you have a higher coverage level and that extra cost is money well spent.
If you have basic liability coverage, you'll pay less than having a full coverage insurance policy. However, you may not have your own interests covered with this type of coverage and will need collision coverage and comprehensive coverage. There are other additional coverage options that can help cover your interests, but it will typically cost more.
What are the credit history
rates

?

Your credit score is not the same as your insurance credit score but the information used in both is taken from the same place: your credit report. The insurance company actuaries cherry-pick from the full report and use the information that they consider most relevant.

Four states have outright banned using credit scores to determine insurance premiums: California, Hawaii, Massachusetts, and Michigan.

Michigan is the latest to join this list, and its law isn't effective until July 2020. The opponents of the new law fear that although credit scores are not allowed to be used, credit reports will be used to determine premiums.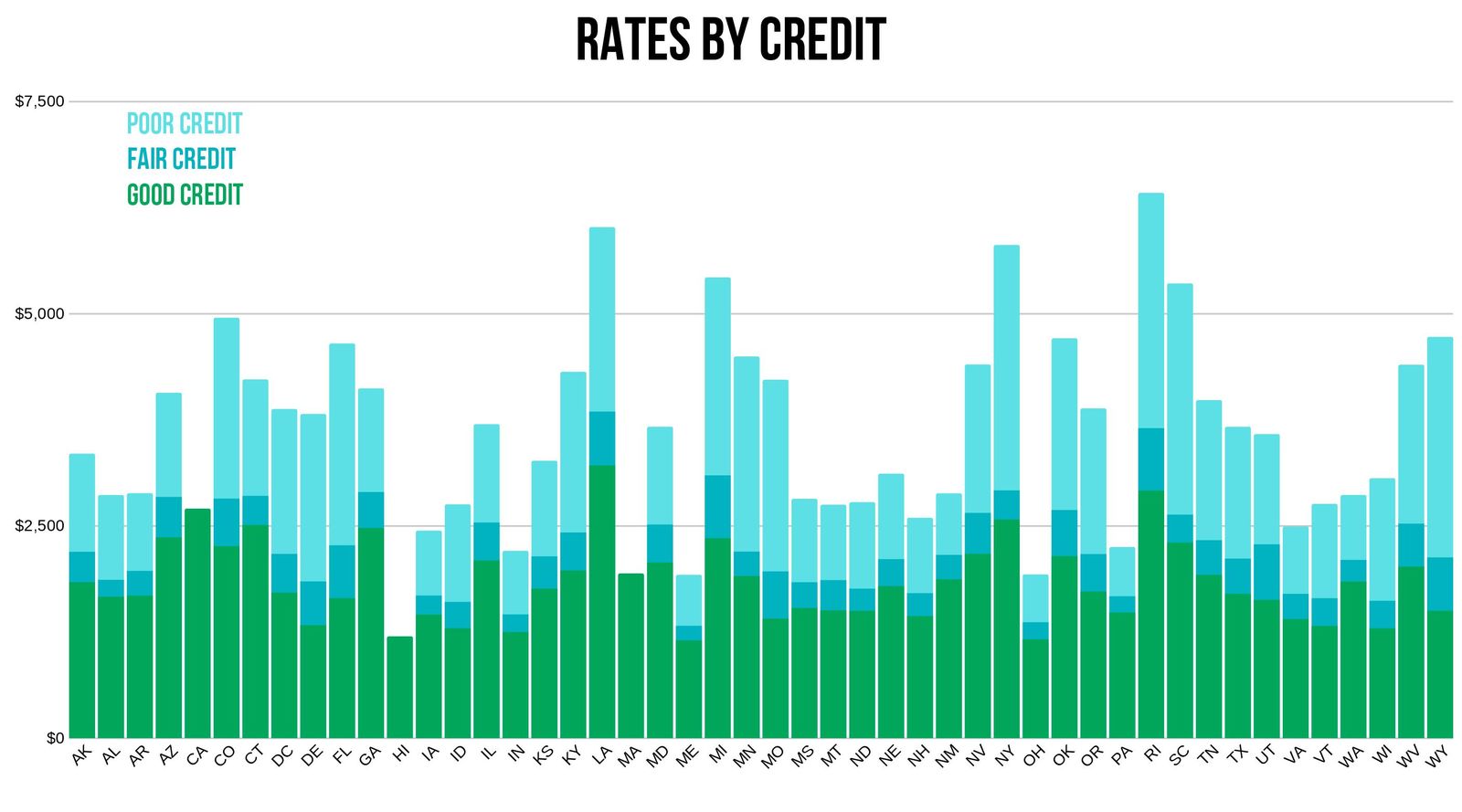 The credit score of Americans as a whole is doing pretty well. More people have super-high credit scores (22.3 percent) than have very low credit scores (21.2 percent) and the average American's credit score is higher than it has been in five years.
Good credit is good for your car insurance rates. There's quite a bit of argument involved in using credit scores to determine your car insurance. Those against it argue that your credit rating doesn't indicate your risk of being involved in an accident.
Those who argue in favor of using credit rating for car insurance say that it's statistically proven that individuals with low credit scores are at a higher risk of making claims.
What are the
driving record

 

rates

?

In all states, your lowest rates accompany your clean driving record. With USAA, a DUI is going to hurt your wallet more than any other driving offense we studied.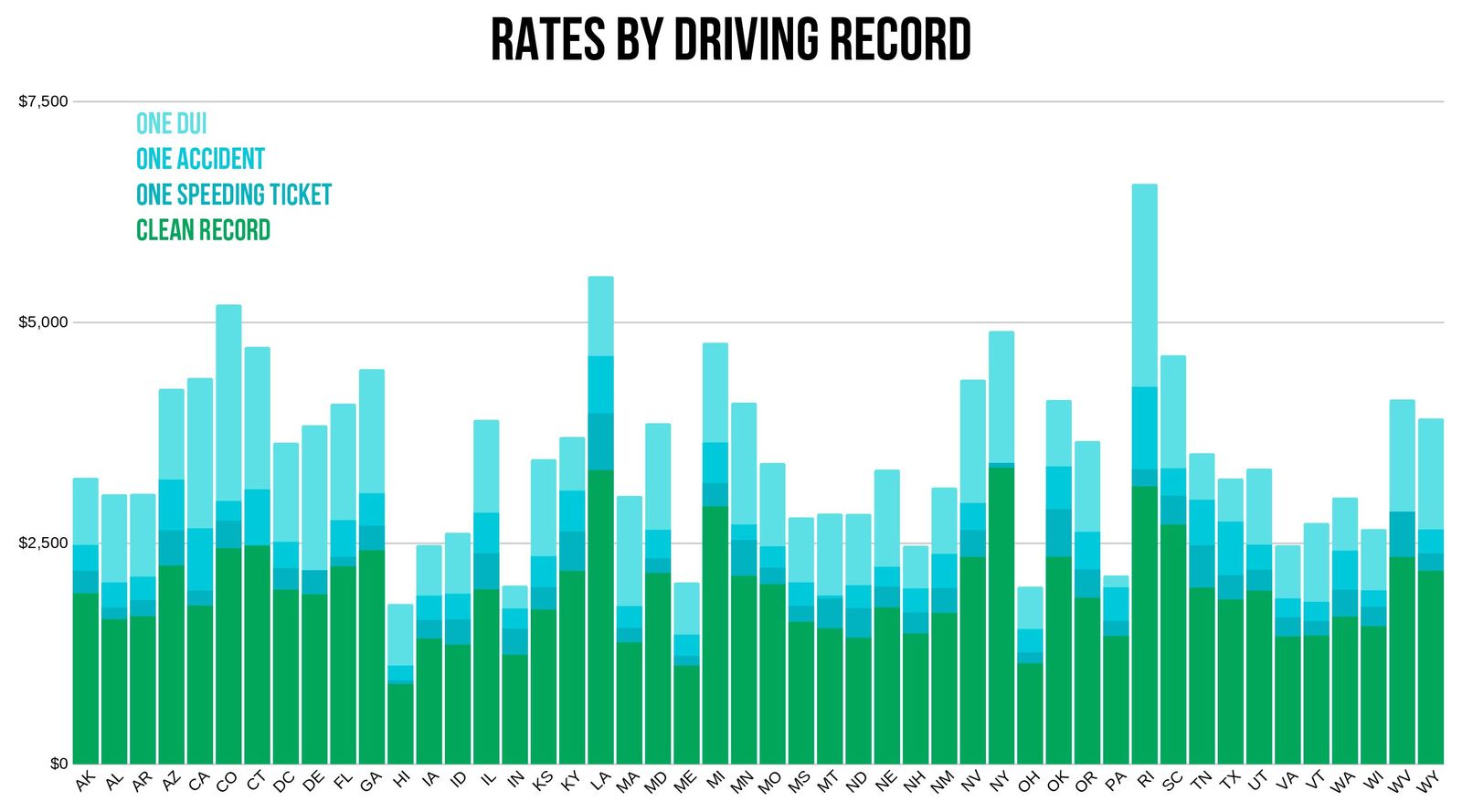 Next, we'll highlight the states where USAA insurance quotes don't follow the trend of increasingly higher rates in this order: clean record, one speeding ticket, one accident, one DUI.
Connecticut – One speeding ticket doesn't affect your rates
Delaware – One accident doesn't cause a rate increase
West Virginia – A speeding ticket will cause your rates to increase $85 more than an accident will
New York – A speeding ticket and an accident each affect your rates by the same amount
These are the results our study yielded. Your individual experience may vary.
Is USAA insurance a good company?
USAA is so much more than just insurance. Yes, they are a leader in the car insurance market, and they offer many other lines of insurance, including health, but they also have banking, mortgage, investing, and retirement packages.
USAA could legitimately be your one-stop-money-shop.
We will only focus on the insurance dimension of USAA, but if you qualify, you need to check out all they have to offer. They specialize in working with the military, obviously, and their rates and perks often beat the competition.
Not every line of insurance is available in every state, but here's what they offer:
Auto Insurance
Renters Insurance
Homeowner Insurance
Rental Property Insurance
Valuable Personal Property Insurance
Condo Insurance
Flood Insurance
Life Insurance
Annuities
Umbrella Insurance
Motorcycle, RV & Boat Insurance
Small Business Insurance
Additional Insurance

Umbrella
Mobile Phone
Business
Special Event
Travel
Pet
Personal and Commercial Bonds
When you bundle auto insurance with home or renters insurance, you'll get 10 percent off your home or renters coverage.
What types of car insurance are offered?
USAA has all the basic types of coverage you would expect:
Full Coverage
Liability Coverage

Bodily Injury
Physical Damage

Personal and Passenger Protection

Personal Injury Protection (PIP)
Extended Benefits Coverage
Uninsured/Underinsured Motorist Bodily Injury
Uninsured/Underinsured Motorist Property Damage

Other Protection

Roadside Assistance
Rental Reimbursement
Accident Forgiveness
Their accident forgiveness protection is worth mentioning. It is an option available for purchase in some states, but across the board, if you're accident-free for five years or longer, this protection will be added to your policy automatically and free of charge.
With accident forgiveness, your rates will not increase after one accident.
In what states is USAA car insurance not available?
USAA is available in every state and Washington, DC. Not every option, perk, and discount is available in every state, though.
What discounts are offered?
USAA offers a wide variety of auto insurance policy discounts to help customers save money on their insurance premium, including these:
Discount for Your Driving

Safe Driver
Defensive Driving
Driver Training
Good Student

Discounts for Your Vehicle

New Vehicle
Multi-Vehicle
Annual Mileage
Vehicle Storage

Discounts for Membership

Family Discount
Length of Membership
Military Installation
No Payment Plan Fees
Most of these discounts are pretty typical and are offered by most car insurance companies. There are a few of note, though:
Vehicle Storage – This is not a common discount and it's tailored especially for deployed service members. Your car is eligible if it's stored and not driven for at least 30 days. The saving is up to 60 percent.
Family Discount – If your parents have USAA and you're continuing in their footsteps by purchasing a policy, you can save 10 percent.
Military Installation Discount – This unique discount is for those who park their vehicle in a garage on a military base.
USAA advertises how much of a percentage some of these discounts will knock off your premium. The percentage of savings from the other discounts will depend on where you live and other circumstances.
Interestingly, USAA does not have a telemetrics-based option and discount. Most companies have a program where you can opt to have your driving habits monitored and then become eligible for safe driving habits discounts.
How do I cancel my policy?
The good news is that if you have USAA car insurance and decide to switch providers, you won't be penalized. They do not have a cancelation fee, and any unused premiums will be returned.
For example, if you pay monthly and cancel coverage halfway through the month, you'll receive a refund for the half of the month you did not use.
The easiest and quickest way to cancel your policy is by phone. You can also cancel online where you'll be prompted to finalize your cancelation through email.
You'll want to cancel your policy if you find better insurance coverage elsewhere.
Premiums Written
These figures from the National Association of Insurance Commissioners (NAIC) demonstrate strong growth in the personal automobile insurance industry.
In 2017, USAA wrote $13,154,939,000 worth of premiums. They paid out a large percentage of that toward claims. We'll look at just how much next.
Next, you'll be prompted to log in. If you're not a member, this is where you can join. To be eligible, remember, you must be a current military member, have served honorably, or be a dependent of a military member.
The first step in the quote process is to provide information about the drivers. There will be several pages requesting information regarding your driving history and other drivers you wish to include on the policy.

Also in this first step, you'll find discounts that may apply to you.
Next, you'll be prompted to fill in the blanks regarding the vehicle(s) you wish to insure. And then you'll enter part three of the online quote: vehicle use.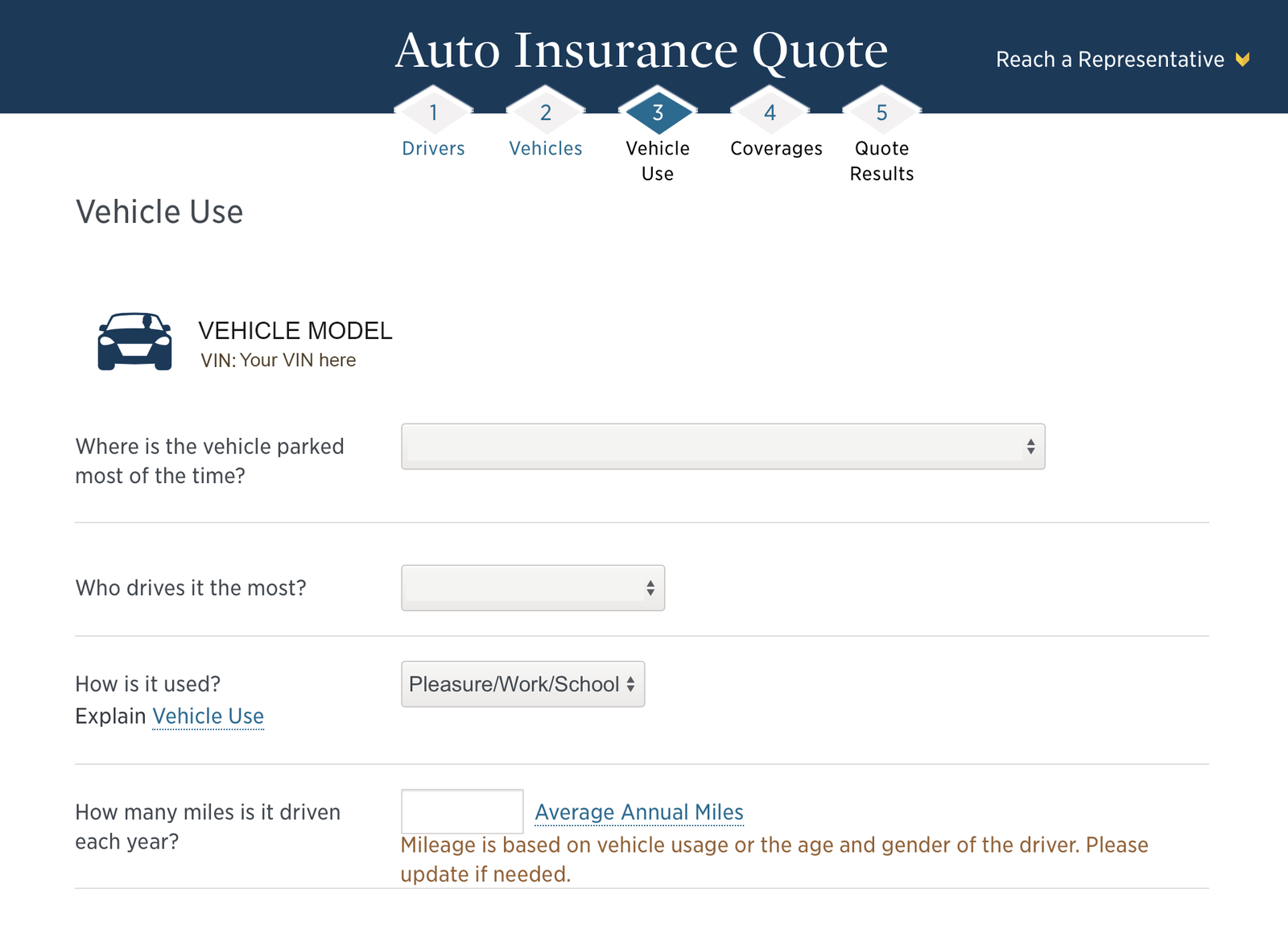 For step four, you'll answer questions about what kind of coverage you'd like.
And once you nail down exactly the coverage you're looking for, you'll receive a quote.
You can come back to your saved quote later, and you can tweak the coverage level you'd like to see how that affects your quote.
Here's the information you'll need to get a quote:
Proof of military membership or your relationship to someone who is or was in the military
Your vehicle VIN
The level of coverage you desire
There will be other personal questions, but they'll be about things you know and don't need to prepare, like your address and birthday.
How is the company's website design?
The USAA website is easy to navigate. The search tool will find you several links to material related to the subject of your search.
The USAA mobile app is a must-have, especially if you use USAA for banking and investing in addition to insurance. You'll be able to access anything related to USAA through the app.
Their app is a standout. It blows the competition out of the water thanks to its wide range of features. With a 4.8 out of five stars from 335K ratings, no one else even comes close.
Because USAA doesn't have local agencies and banks, they had to design an awesome app since that's how the majority of their customers do business with them.
However, USAA's usage-based driving app (SafePilot) hasn't received great reviews. Most of the negativity is due to the fact that the app is only available in Arizona, Ohio, Texas, and Virginia.
Hopefully, USAA will expand the availability of its driving app in the future.
What are the pros and cons?
The pros highly outweigh the cons. If you are eligible for USAA, you'd be crazy to not at least get a quote to see how they compare to your current provider.
USAA Insurance Claims Process
Ease of Filing a Claim
USAA offers multiple convenient methods for filing insurance claims, making it easy for policyholders to report incidents and start the claims process. You can file a claim with USAA through their online portal, over the phone, or via their mobile app.
Calling and speaking to a claims representative is the best way to get a claim started. The USAA insurance claims phone number is 210-531-8722. This flexibility allows you to choose the method that suits you best, whether you prefer the convenience of digital channels or prefer speaking directly with a representative.
Average Claim Processing Time
USAA is known for its efficient claim processing. While the specific processing time may vary depending on the nature and complexity of the claim, USAA strives to handle claims promptly. Their streamlined procedures and commitment to customer service contribute to faster claim resolutions, ensuring that you receive the support you need when it matters most.
Customer Feedback on Claim Resolutions and Payouts
USAA consistently receives positive feedback from customers regarding their claim resolutions and payouts. Consumer Reports and J.D. Power have rated USAA highly in terms of claims satisfaction.
This indicates that policyholders are generally pleased with how USAA handles their claims, emphasizing the company's dedication to providing excellent customer service throughout the claims process.
USAA Digital and Technological Features
Mobile App Features and Functionality
USAA's mobile app offers a wide range of features and functionalities that make managing your insurance policies convenient. You can access your policy information, view digital insurance cards, file claims, pay bills, and even deposit checks using the mobile app. The app's user-friendly interface and comprehensive tools empower policyholders to handle their insurance needs on the go.
Online Account Management Capabilities
USAA's online account management platform provides policyholders with a seamless experience for managing their insurance accounts. Through their secure website, you can review policy details, update information, add or remove coverage, and track the progress of claims.
The online account management system is designed to simplify policy administration and keep you informed about your coverage.
Digital Tools and Resources
USAA offers various digital tools and resources to help policyholders make informed decisions about their insurance. These resources may include educational materials, calculators, and interactive features that assist you in understanding your coverage options and making choices that align with your needs and budget.
USAA's commitment to leveraging technology enhances the overall customer experience.
What is the company's AM Best financial strength rating?
AM Best grades the financial stability of insurance companies. If the insurance company you're considering doesn't get a good grade, you should cross them off your list. A bad grade indicates the company may not be able to pay claims.
The whole reason you have insurance is for the possibility of making a claim.
They also give a grade for the company's financial outlook. USAA received the highest grade, A++ (Superior) and their outlook is stable.
What's the bottom line?
The bottom line is that USAA is a company that stands on a solid financial and historical foundation. They have kept up with the changing world and continue to offer solutions for people's needs.
Their insurance premiums are hard to beat. When you combine that fact with their customer satisfaction ratings, they're often the best choice for those who are eligible. You'll need to compare rates yourself to see what's best for you.
Do you have more questions about USAA insurance?
If you're wondering about anything else related to USAA car insurance, we may have just the answer you're looking for below.
Can I be a USAA member and not get car insurance?
Definitely. It's free to join and after joining, you have the option to enroll in their insurance, banking, etc.
What are the perks to USAA membership?
First of all, it's the first step toward using any of their services. Becoming a member will allow you to purchase insurance and take advantage of any of their other financial departments. Besides access to insurance, banking, lending, and investments, USAA membership also gives you access to discounts like the following:
Car rental – up to 25 percent off
Travel deals
Home security – discounts and free limited monitoring during deployment
Car buying discounts
Shopping rewards – available at hundreds of online stores
Exclusive discounts – available on shipping, moving, and storage
Is USAA car insurance available internationally?
Yes. It is available in some international locations. You will have to contact them to see if the country where you'll need car insurance is included.
How can I renew my coverage?
It usually renews automatically.
If you meet the requirements, USAA is definitely worth considering for your insurance needs.
Get started comparing quotes today. Enter your ZIP code into our free took below to get started.