Best Auto Insurance for Washington
The three best auto insurance companies in Washington are Pemco, State Farm, and American Family because of their high ratings with J.D. Powers. With rates a little below average, Washington drivers can carry more coverage and still often pay less than other drivers in the country.
Free Car Insurance Comparison
Compare Quotes From Top Companies and Save
Secured with SHA-256 Encryption
UPDATED: Jun 1, 2022
It's all about you. We want to help you make the right coverage choices.
Advertiser Disclosure: We strive to help you make confident insurance decisions. Comparison shopping should be easy. We are not affiliated with any one insurance provider and cannot guarantee quotes from any single provider.
Our insurance industry partnerships don't influence our content. Our opinions are our own. To compare quotes from many different insurance companies please enter your ZIP code on this page to use the free quote tool. The more quotes you compare, the more chances to save.

Car insurance rates in Washington fall a little below the national average, but there is still plenty of room for shopping around to get an even better, lower rate. There are plenty of good insurance companies to choose from in the state, so finding the best value in car insurance is just a matter of a little time and research.
The Basics of Auto Insurance in Washington
Washington has laws in place that require all drivers to carry a minimum amount of car insurance coverage in order to ensure they are financially responsible if they are at fault in an accident.
The legal minimum for bodily injury liability is higher than in some other states, with a requirement for $25,000 per person and $50,000 per incident. Additionally, drivers are required to carry $10,000 in property damage liability, which is on the low side considering the value of some of the vehicles on the road today.
Drivers in Washington can also meet financial responsibility requirements by having either a bond or a certificate of deposit in the amount of $60,000; doing this relieves the driver of the need to carry an insurance policy, or proof of insurance.
While personal injury protection is not a required coverage by law, drivers choosing not to carry this coverage must reject it in writing. Otherwise, the insurance company must add it to the policy.
There are no other legally required coverages for drivers in Washington, however a lender financing a vehicle will usually require that coverage include both comprehensive coverage and collision coverage. They may also have a limit set on how high the deductibles on the auto insurance policy can be. Policy limits will vary.
Are you looking for free insurance quotes?
Your one-stop online insurance guide. Get free quotes now!
Secured with SHA-256 Encryption
Are you looking for free insurance quotes?
Your one-stop online insurance guide. Get free quotes now!
Secured with SHA-256 Encryption
Specifics of Washington Auto Insurance
Insurance in Washington is similar to that in most other fault states, where drivers found responsible for an accident can be sued. This means that carrying lower liability limits on your policy puts you at risk of being held financially responsible for any damages above and beyond those limits, including for pain and suffering.
Washington state borders Canada, and residents should know that for the most part, U.S. auto policies will cover you if you cross the border. It is always a good idea to check with your car insurance company before you go, however, to be on the safe side. You want to make sure you have auto coverage before you drive out of the country.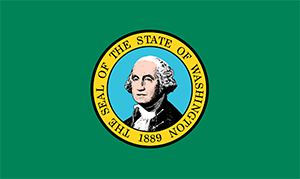 Our Process
All of the companies we put on our list of top picks had to meet our standards for great service, which we determine by looking at a variety of factors. These include trusted consumer research sources as well as our own research into customer feedback for the company. Good insurance companies have a reputation for quick and friendly response to customer needs as well as excellence in claims handling. An easy claims process plus the combination of customer service can really make a heap of a difference in a driver's overall experience with an insurer.
We also ranked our top picks based on auto insurance rates; what we looked for however was not just the least expensive but the best value. That means that to make our list the company had to have affordable rates compared to their competitors for good coverage policies. To add up to great value, the auto insurance coverage and rates for drivers had to come from a company with a solid reputation.
All of our top picks are available across the state, whether in Seattle or Spokane, although the best pick among those companies may vary depending on where you live. Although it always ranks well, we did not include USAA due to the eligibility requirements; military members may want to look there first. We chose companies that are open to everyone in order to provide the most widely usable information for drivers to use in order to make auto insurance decisions with confidence.
Our Top Picks
These three companies represent the best offerings in Washington for their combination of rates and service.

Pemco
This Northwest-based company ranked number one on J.D. Power's regional survey for customer service in 2018, which satisfies the requirement for a great reputation. They are local and understand the needs of Washington drivers, which is a plus for many people.
Although they are known as a preferred risk insurance company – meaning they have better rates for those with good driving history, their rates actually come in pretty reasonable across the board. They definitely are, however, a top option for drivers with a clean driving record.
State Farm
The biggest name in personal insurance nationwide is also a top pick for drivers in Washington state. State Farm has a solid reputation, ranking in the top five in J.D. Power's survey, and offers the personal assistance of an agent.
While agent-driven companies are often seen as expensive, State Farm's rates actually come in at competitive levels overall. That means you can get all of the services without overpaying, and they also have a great discount for bundling your home insurance, as well as other insurance discounts.
American Family
Also a top-five ranked insurance company by J.D. Power, American Family's general reputation for having somewhat high rates does not hold true in Washington state, where they offer affordable insurance even for drivers with poor credit.
American Family is a solid company and offers some great discounts, including bundling of home and auto insurance. Like State Farm, they also have the personal attention of an agent available along with competitive rates and happy customers.
Are you looking for free insurance quotes?
Your one-stop online insurance guide. Get free quotes now!
Secured with SHA-256 Encryption
Shopping for Car Insurance in Washington
Although Washington does have some of the higher legal minimums, at least for bodily injury limits, it is always a good idea to increase those limits. The higher the coverage you select, the better your protection in the event of an accident, and it does not cost much more to kick those limits up even by several levels.
Choose the limits and deductibles you want prior to starting your shopping. When you contact an insurance company for a quote – whether online or over the phone – make sure to explain what coverage you want and see that every quote gives you the same levels. That will make sure that you get quotes that are a fair comparison to each other.
Big companies are usually the first on the list, but you should be sure to check in with local companies as well because they can often provide a great deal on your insurance, particularly if you are looking to bundle. A local agent can help you to navigate the process of getting quotes for comparison from smaller companies without having to call them all individually.
The Bottom Line
Washington drivers can get good rates and great coverage from both big companies and local ones, and our top picks reflect both sides of that coin. With slightly below average rates, Washington drivers can carry more coverage and still often pay less than other drivers in the country; shopping around is, as always, the key to finding the cheapest option. You deserve a good auto insurance company that will give you the lowest rate.

Are you looking for free insurance quotes?
Your one-stop online insurance guide. Get free quotes now!
Secured with SHA-256 Encryption
Are you looking for free insurance quotes?
Your one-stop online insurance guide. Get free quotes now!
Secured with SHA-256 Encryption
Editorial Guidelines: We are a free online resource for anyone interested in learning more about insurance. Our goal is to be an objective, third-party resource for everything insurance related. We update our site regularly, and all content is reviewed by insurance experts.