Best Auto Insurance for Military Members
The three best auto insurance companies for military members are USAA, Geico, and Esurance. The best auto insurance rates for military members depends on a number of factors; whether you are active duty, whether you are deployed away from home or expect to be deployed, and your driving habits.
Free Car Insurance Comparison
Compare Quotes From Top Companies and Save
Secured with SHA-256 Encryption
UPDATED: Jun 1, 2022
It's all about you. We want to help you make the right coverage choices.
Advertiser Disclosure: We strive to help you make confident insurance decisions. Comparison shopping should be easy. We are not affiliated with any one insurance provider and cannot guarantee quotes from any single provider.
Our insurance industry partnerships don't influence our content. Our opinions are our own. To compare quotes from many different insurance companies please enter your ZIP code on this page to use the free quote tool. The more quotes you compare, the more chances to save.
Members with military status, both active duty and veterans, can qualify for some additional discounts and perks when it comes to auto insurance. There are several companies, both exclusive to the military and open to the public, that offer policies designed to meet the needs of a military lifestyle as well as provide special affordable rates.
The best rate for you depends on a number of factors; whether you are on active duty, whether you are deployed away from home or expect to be deployed, and your driving habits. While USAA is the name that first comes to mind when discussing military insurance, it is not the only choice.
The Basics of Auto Insurance for Military Members
The basic insurance requirements for auto policies are the same for military members as for all drivers; your policy must meet the legal minimum requirements for your state. That includes liability limits and, in some states, personal injury protection (PIP), uninsured/underinsured motorist coverage, or other required coverage.
If you have a car loan, you will also be required to meet your lender's guidelines for comprehensive coverage and collision coverage. Aside from these requirements, military members can pick and choose the auto coverage they prefer.
Like all drivers, rates are based on the type of car you drive, where it is garaged, how far and how often you drive, and your driving record.
Military members can obtain their insurance from any car insurance company and can shop for rates in the same way anyone else would. There are, however, some insurance options and special discounts aimed specifically at military members that can mean better rates and coverage tailored to your needs.
Are you looking for free insurance quotes?
Your one-stop online insurance guide. Get free quotes now!
Secured with SHA-256 Encryption
Specifics of Auto Insurance for Military Members
There are a few things military members need to consider when it comes to car insurance; one of the big ones is how a deployment or reassignment is handled.
Some car insurance companies allow the car to be listed as in storage when it is not being driven for a period of time. This usually means that the car is on a comprehensive-only policy; it is covered for theft, vandalism, and any other non-collision damage, but cannot be legally on the road since there is no liability coverage. While most companies offering this coverage do not intend it solely for deployments, it can be a convenient way to handle long absences.
USAA, which caters only to military members and their families, provides assistance specifically for the needs of policyholders during deployment. They also have competitive rates for those who keep their vehicle on base.
Reassignment may also be an issue, especially if you have to change insurance companies as a result. Find out what kind of fees you may be charged; some companies will waive them for military members.
A number of car insurance companies do offer a military discount; the amount that discount varies widely. For veterans, who do not need assistance with handling things like deployment, some of those discounts may make the rates even better than what is available at USAA.
Our Process
To choose the best auto insurance for military members, we first looked for companies that offer a military discount or special rate. Companies with the best discounts made the top of our list.
We also looked for companies that make it easy to handle deployments, with storage options as well as no fees for making changes, canceling, or reinstating. This includes assistance with reassignments that mean a move to a different state and require changes to your policy.
Of course, one of the requirements was that the company offer a good value; great rates combined with good coverage and good service. All of our picks go out of their way to provide military members and their families with their insurance needs. They also provide nationwide coverage; while there may be small local companies that are a great pick for your needs, these picks cover a wide geographical area.
Our Top Recommendations
These three companies serve military families best with great products, rates, and customer service too.
USAA
USAA is the biggest name in military insurance and provides policies only to those who meet their eligibility requirements, including active duty military, veterans, and their families. They consistently rank among the best in the nation for claims satisfaction and general customer service.
USAA rates are already low for military members, but they also have a 15% discount for cars garaged on base, and they drop rates up to 90% during deployment if the car is in a secure location. Because USAA serves only the military insurance market, all of its policies are designed with the needs of those in the service in mind.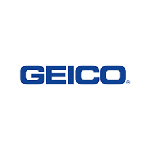 Geico
Geico's military program provides access to a specific customer service line just for military members, a custom insurance ID card, and more. They have a military team of currently enlisted and veteran employees that work specifically in that department to make sure programs are on point.
Discounts of up to 15% are offered to active duty, veterans, and more, and there is also an emergency deployment discount available. Geico's policies also come with a good reputation from the second-largest insurance company in the nation. Furthermore, members of the Navy Federal Credit Union can take advantage of a special partnership with Geico that offers a group discount on car insurance.
Esurance
While Esurance does not have a specific military discount, they do waive fees for military members on insurance cancellations, reinstatements, and moves from state to state. They also provide all military policyholders with free assistance in finding a new policy if they are reassigned to a place where Esurance does not provide coverage.
Esurance already has some of the lowest rates around and ranks well for customer service. They are owned by Allstate – and therefore have a strong financial backing, and they make it simple to handle your policy online from any location.
Are you looking for free insurance quotes?
Your one-stop online insurance guide. Get free quotes now!
Secured with SHA-256 Encryption
Shopping for Auto Insurance for Military Members
Like any insurance policy, it is always a good idea to get a lot of comparison rates before you choose a company. Much smaller, regional companies do offer military discounts, so do not skip them when comparing. In some cases, a company that doesn't have a specific discount may still have a better rate. This is especially true for veterans who do not have concerns about deployment or reassignment.
Make sure to ask before you take out a policy how deployments are handled; you don't want to find yourself in the middle of a hassle with your auto insurance when preparing to leave home. An insurance company that has a plan in place to handle the situation smoothly and with minimum effort on your part is a must. The same goes for reassignment to a new location.
Remember that your car insurance may not be the only opportunity for a discount; shopping your home insurance around at the same time can save you even more. Adding a military discount to an auto/home discount drops your overall bill dramatically in some cases.
The Bottom Line
USAA is considered the gold standard in military car insurance, with Geico ranking a close second, but that does not mean either of those companies is automatically right for you. Any of our top picks may help you get a great rate on the coverage you need, but since individual needs vary it is always a good idea to check a variety of options. Compare rates, but also be sure to find out what specific benefits each company will offer to military policyholders as well as how they can help you when military life uproots you unexpectedly.
Are you looking for free insurance quotes?
Your one-stop online insurance guide. Get free quotes now!
Secured with SHA-256 Encryption
Are you looking for free insurance quotes?
Your one-stop online insurance guide. Get free quotes now!
Secured with SHA-256 Encryption
Editorial Guidelines: We are a free online resource for anyone interested in learning more about insurance. Our goal is to be an objective, third-party resource for everything insurance related. We update our site regularly, and all content is reviewed by insurance experts.