Great American Life Insurance Company Review & Complaints: Life Insurance
Great American Life Insurance Company, formerly United Teachers Associates, offers term, whole, and universal life insurance and UTA LTC 20 premiums. Great American Life Insurance costs are as low as $13.38/mo for term policies and the BBB has an A+ Great American Life Insurance Company rating.
Free Car Insurance Comparison
Compare Quotes From Top Companies and Save
Secured with SHA-256 Encryption
UPDATED: Mar 16, 2022
It's all about you. We want to help you make the right coverage choices.
Advertiser Disclosure: We strive to help you make confident insurance decisions. Comparison shopping should be easy. We are not affiliated with any one insurance provider and cannot guarantee quotes from any single provider.
Our insurance industry partnerships don't influence our content. Our opinions are our own. To compare quotes from many different insurance companies please enter your ZIP code on this page to use the free quote tool. The more quotes you compare, the more chances to save.
Great American Company/United Teacher Associates Overview
Key Info
Company Specifics
Year Founded
1872
Current Executives
Co-CEO – Carl H. Lindner III
Co-CEO – S. Craig Lindner
Number of Employees
4,318
Total Sales / Total Assets
$530,000,000 / $63,456,000,000
HQ Address
301 E. Fourth St.
Cincinnati, Ohio 45202
Phone Number
1-800-854-3649
Company Website
www.greatamericaninsurancegroup.com
Premiums Written – Individual Life
$6,800,000,000
Financial Standing
+ 4.2%
Best For
Annuities
#blank#
As of the time of this United Teacher Associates insurance company review, we can find no evidence that United Teacher Associates is operating as an independent company. If you've stumbled across this article, there's a good chance you're interested in or are currently pursuing a policy with the UTA LTC 20 premiums. However, there's some news that could be considered positive or negative depending on your position.
United Teacher Associates, as it was formerly known, has been acquired by the more popular Great American Financial Resources Inc. If you're pursuing a new policy, this is good news because Great American life insurance (review below) has the experience and assets as one of the best insurance companies around.
In this review, we'll look at Great American Life Insurance Company's ratings, policies, and the life insurance company's reviews to show that both past and future customers of UTA LTC 20 have nothing to fear from their life insurance policy.
Ready to see what you could pay for a Great American insurance company policy and learn more about UTA LTC 20 premiums? Before diving into our United Teacher Associates insurance company review, use our FREE quote tool to get an idea of what your life insurance rates might be.
Shopping for Great American Life Insurance Quotes
If you're curious about how much the average Great American long term care policy costs, rest assured that if you're young and healthy, your policy will be very affordable. However, the typical Great American life insurance rates will increase the older you get.
Outside of the obvious health benefits, taking better care of your body and eating right will help you get the best rates that you can.
Average Great American Life Insurance Rates by Age
Curious about the typical Great American rates by age? You'll automatically save much more the sooner that you apply for your policy. Great American's rates for non-smokers are unavailable online, as it is mainly a group insurer.
Average Annual Term Life Insurance Rates for Non-Smokers by Age
($100,000/10-Year Policy)
Non-Smoker's
Age
Average Annual Rates for a Male
Average Annual Rates for a Female
25
$178.54
$160.57
35
$185.04
$165.91
45
$267.89
$240.25
55
$524.95
$406.94
65

$1,273.12
$880.66
#blank#
#blank#
As you can see, the average yearly life insurance cost is very affordable — even as a senior — as long as you can lay off the tobacco and nicotine products.
Don't believe us? See the following table for what you could expect to pay for the same policy if you were classified as a smoker.
Average Annual Term Life Insurance Rates for Smokers by Age
($100,000/10-Year Policy)
| Smoker's Age | Average Annual Rates for a Male | Average Annual Rates for a Female |
| --- | --- | --- |
| 25 | $321.76 | $248.75 |
| 35 | $360.23 | $286.18 |
| 45 | $637.51 | $493.20 |
| 55 | $1,364.09 | $991.63 |
| 65 | $3,245.05 | $2,235.31 |
| | #blank# | #blank# |
As you can see, you can expect to pay twice as much as someone in the same age group who doesn't smoke.
Are you looking for free insurance quotes?
Your one-stop online insurance guide. Get free quotes now!
Secured with SHA-256 Encryption
Great American's Life Insurance Policies
Deciding what type of policy to get relies heavily on what kind of life you have and what is most important to you and your family. For instance, if you're trying to help your parents, you may look for life insurance policies for parents or for seniors.
Likewise, if you want protection for the absolute worst, you can get additional coverage that adds your children to the policy at an increased cost.
Great American sells life insurance to individuals as well as property insurance to businesses to ensure that those companies don't have to handle the whole loss of their property.
Term Life Insurance
Term life insurance is based on the idea that you'll only need insurance for a portion of your life. For instance, those just starting out with a young family may want to take out a 20- or 30-year term life policy to cover any expenses their family may need, at least until they have grown into stable adults.
For the life of the policy, you'll pay equal premiums, and if you die during the term, you'll know exactly how much your beneficiaries will receive from the death benefit.
Because of this hassle-free schedule, this is often referred to as the easiest way to get coverage without having to understand a lot about finances.
Take a look at the advantages and disadvantages of term life insurance.

Is term life insurance right for you? Keep reading to learn about other options before you decide.
Whole Life Insurance
Whole life insurance is exactly what it sounds like: insurance for your entire life. As long as you pay your premiums, you'll be insured from the day you sign your policy until the day you die. Compare the similarities and differences between term and whole life insurance.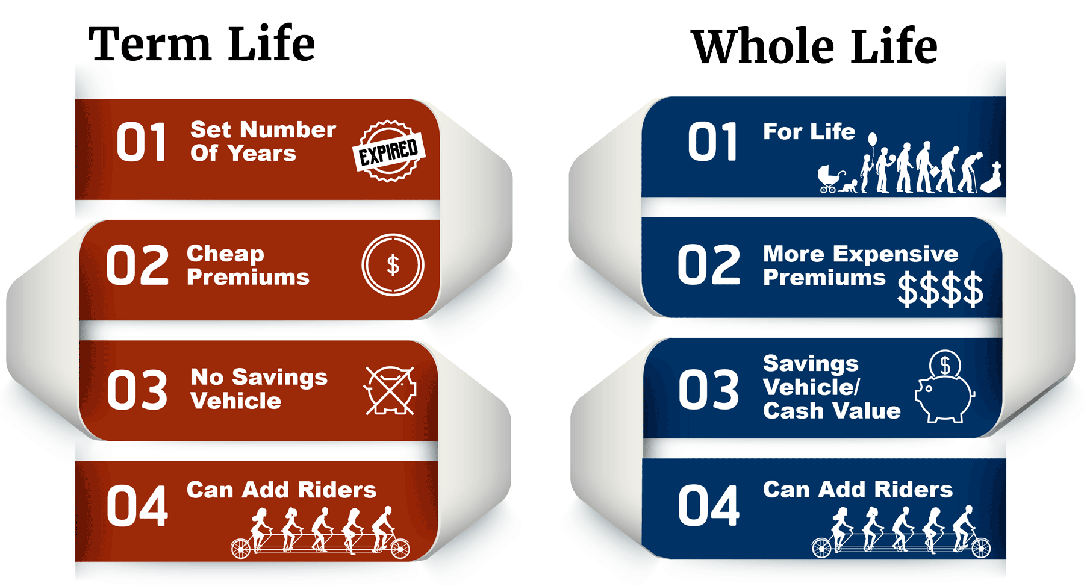 Like term life, these types of policies also offer riders that can help provide a portion of the death benefit upfront so that you don't have to take the brunt of long-term care or medical expenses. This policy will also offer equal premiums for the life of the policy. However, it's more expensive. That's because this policy comes with a savings type account called cash value.
This cash value is sometimes invested and can be loaned against later in life to help cover any expenses you'd like. In some cases, the cash value will be invested at an increasing percentage to give you a maximum return.
Universal Life Insurance
Universal life insurance is like a whole life policy in that it accrues cash value. This cash value is placed in an investment product that will allow you to accrue extra wealth.
Premiums are flexible with this type of policy, but the more you pay, the higher your investment and the bigger the death benefit you'll receive when you pass away. In contrast, paying the minimum will leave only enough for the bare essentials and little to no addition to your investment. Nonetheless, this flexibility will help should you face any unexpected problems.
Burial & Final Expense Insurance
This insurance is also exactly how it sounds. For a much more affordable price, you can get just enough of a death benefit to pay for your final expenses. Since you won't be receiving a larger death benefit, your premiums will be much more affordable.
This is also a good policy for those who aren't worried about their family's finances but don't want a huge impact when they pass.
Other Life Insurance Products
Variable life insurance is a policy that allows you to invest a part of your monthly premiums into a variety of sub-accounts. There are two main options when investing in a variable life insurance policy. These include:
A traditional universal life policy invests the policyholders' cash value in an internal account that has a guaranteed positive increase. This is a much safer option compared to something independent of the insurer.
However, with an indexed policy, the cash value will be invested in the stock market where it may not always have an increase, but you may also get more than was possible with the traditional policy.
An annuity is a life insurance product that will have the insurance company pay out a stream of payments to you. This can be funded by a single premium or by a series of premiums for the annuity to pay out later.
Life Insurance Riders
A life insurance rider or endorsement is an add-on to a policy that will give you extra coverage for an additional cost. For example, if you got a rider that covered your child, you would receive a predetermined amount if the worst were to happen.
Another option is to get a rider that will cover you should you become terminally ill during the policy. If you received such a diagnosis from your doctor, you could be given a portion of the death benefit upfront.
How to Get a Quote Online with Great American
With the current digital age and the social isolation that has come with it lately, more people than ever are wondering how to get life insurance quotes online. And Great American Insurance's online presence is strong.
All you have to do is locate the "Submit-A-Quote" form on the Great American website and fill it out in your browser or by hand. The form includes a few voluntary questions about risk in your life. Once you have filled out the form, print if necessary, and mail the form to:
301 E. 4th St.
Cincinnati, OH 45202
After that, you can expect an agent to get back to you as soon as they evaluate your answers.
Canceling Your Life Insurance Policy
You can cancel your policy at any time you wish. All it usually requires is a few phone calls and the right paperwork. There is an abundance of reasons to want to cancel your policy. Whether you don't want to pay the premiums, you found a better deal, or you're leaving a company and are unable to take the policy with you, canceling your policy only takes a few short steps.
How to Cancel
To cancel your policy with Great American, you just need to reach out via mail or phone with the appropriate information about your policy. In fact, if you cancel within 30 days of your initial start date. As a policyholder, you'll have access to a customer portal where you can find the forms needed to cancel your policy.
If you'd rather discuss your cancellation options over the phone, you can contact Great American customer service at 1 (800) 545-4269. They can give you further information about canceling your policy.
Are you looking for free insurance quotes?
Your one-stop online insurance guide. Get free quotes now!
Secured with SHA-256 Encryption
Great American Insurance Claims
The best way to make a life insurance claim with Great American is to go to their website, download their claim form, and fill it out with the information about your loved one who has passed away. Then you'll mail the completed form to:
Great American Insurance Group
Attn: Claims Department – 10N
P.O. Box 5420
Cincinnati, OH 45201-5420
Once you have filled out the form, an agent will get back to you as soon as they have verified the death of the insured. If you have any questions or just want to talk to someone about your options, you can call the Great American Life Insurance company phone number at 1-800-854-3649.
How long do you have to make a life insurance claim? Well, typically there are no limits on the time that passes before you make your claim, but you should reach out to your specific provider to find out if they have any limitations.
Great American's Customer Experience
Reviews across the web from places like the National of Insurance Commissioners speak volumes of the best and the worst of Great American. Some of the best customer experience reviews speak positively about customer service, but the worst customer experience reviews state that they have lost money from their investments in Great American annuity products.
Great American's Programs
Great American has committed itself to do the utmost to ensure that its customers are both happy and healthy for many days to come. They also have special programs dedicated to informing potential insurance agents about what it takes to perform well in the industry, and more importantly, with Great American.
Design of Website/App
Great American's website is easy to navigate, with sections at the top of their homepage for different types of users such as individuals and employers, and an area for you to learn how to file a claim. Each section has unique tools and forms that can help you find the answers you need.
Great American doesn't have any apps, so all online interactions will have to be done through the client portal on their website.
About Great American Life Insurance
Great American Life Insurance started out as United Teacher Associates. United Teacher Associates' history reached its end after it operated out of its Texas headquarters for nearly 60 years. In 2015, the company was acquired by diversified holding company HC2 Holdings, along with another insurance company called Continental General Insurance, or CGI.
Since the time of our last review, the company no longer operates a website, and search results bring very little in the way of information regarding its fate. After some digging, we were able to discover that United Teacher Associates was merged into Continental General in 2017. Then they would sell a portion of all of their United Teacher Associates insurance company to Cigna.
Also confusing is the fact that the Continental General insurance company also no longer operates its own website, and search results are again limited. Neither company appears on the HC2 Holdings website, which indicates that the company sold them off. Instead, you can find the CGI Cigna premium policy with Cigna.
United Teacher Associates was bought by the Great American Life Insurance company in 1999.
It does appear that United Teacher Associates no longer writes new business under their previous company name. Great American's headquarters is currently located at 301 E. Fourth Street, Cincinnati, OH 45202.
Great American's Ratings
An insurer without oversight would not be accountable for their financial decisions as they may make decisions that are unhelpful to their policyholders. Thanks to these rating companies, clients can be fully informed about an insurer's responsibility to their clients.
The Better Business Bureau (BBB) is one of the more popular business rating agency sites. As opposed to the finance-based A.M Best, the BBB focuses on customer experiences and how a business treats the people they do business with. There are sections for formal and informal complaints that give a better view of the problems customers face.
Great American has an A+ rating with the BBB, which is the best rating available. This shows that Great American places a lot of stock in taking care of their customers.
Moody's rates an insurer on their credit history and the likelihood that they will have troubles in the near future. They look at both short- and long-term credit history. Great American has an A1 rating with Moody's and a stable credit outlook. The A1 rating is fairly positive and is indicative of very few financial problems over the company's history.
The Standard & Poor's (S&P) rating definitions are separated into general-purpose and special-purpose ratings. Like the other rating services, they use a letter scale to indicate an insurer's financial reliability. Great American's financial strength ratings with S&P are an A+, which is on the better side of average.
Overall, Great American has a pretty good rating with most companies, excluding the highest rating with the BBB. While this may not look ideal to most, you're most likely not going to have many financial problems with this insurer as they have plenty of assets to keep themselves afloat.
Great American's Market Share
A company's market share is the number of consumers they have within their industry. The higher the percentage, the more policies they have and the more money coming in.
Great American is one of the leading life insurers in the country, with a market share of 0.88 percent in 2018, according to the Insurance Information Institute. While that may not seem like much, they are still one of the leading insurers in America.
Hard to believe? See the chart below for a breakdown of the top 10 insurers by market share in 2018 plus Great American.
Great American Life Insurance Market Share vs. Top 10 Life Insurance Companies
| Companies | Market Share |
| --- | --- |
| Northwestern | 6.4% |
| Metlife | 6.0% |
| New York Life | 5.7% |
| Prudential | 5.6% |
| Lincoln National | 5.4% |
| MassMutual | 4.2% |
| Aegon | 2.9% |
| John Hancock | 2.8% |
| State Farm | 2.8% |
| Minnesota Mutual | 2.7% |
| Great American | 0.9% |
| | #blank# |
When you look at Great American's market share compared to the competition, it's clear that while they may not be in the top 10, they may find themselves as a top contender in the coming years.
Great American's Online Presence
In this digital age, staying connected to your audience is imperative to keeping their attention. To this end, insurance companies are using social media to connect on a more personal level to their clients. The insurance company's strategy is to use social media posts to place itself in your mind as you scroll through your feed.
You can find Great American on Twitter, @GAIGroup, posting inspirational messages and information about their accomplishments and new features they offer. You can also find them sharing similar messages on their company page on Facebook.
You can also find Great America on LinkedIn, posting about new career opportunities and advice for prospective insurance agents.
Great American's Commercials
Insurance companies' TV commercials are usually sad, boring, or both. However, Great American is giving you the numbers in a no-nonsense approach to show that they are among the best insurers around.
https://www.youtube.com/watch?v=RlK5uubmyL8
As a company that has stayed strong for over a century, Great American isn't afraid to make sure that everyone knows they are committed to their clients and to beating the competition.
Great American also has a strong recruitment presence on YouTube, both showcasing the benefits of working in the insurance agency and encouraging future job seekers to consider working for the Great American family. See the video below to find out why Great American thinks insurance is a great field to work in.
Those currently working in the insurance industry encourage their peers to keep an open mind and be ready for whatever may happen, as you shouldn't expect a boring day on the job.
For those who are considering a position with Great American, they encourage prospective applicants to apply to this unique opportunity with their "Be Here Be Great" campaign, as seen below.
In this video playlist, you'll find that many of the employees of Great American find their jobs to be both challenging and fun, and encourage anyone who is curious to apply and try it out for themselves.
Great American in the Community
Great American takes pride in being a business that helps the community. They've focused their efforts to help provide for several causes such as performing arts, religious services, and youth engagement programs, among many others.
Whether it's running a charity marathon or donating blood at a Red Cross drive, Great American's employees have proven they are dedicated to helping their communities prosper.
Companies that do good for their communities, such as providing for those who need it most, will stick out in their consumers' minds long after the hard times have passed.
Great American's Employees
Great American's employee reviews are mostly positive. Many employees praise the work-life balance and the benefits, as well as the ability for upward mobility.
Great American takes pride in informing the public about their health, and through their employees' volunteer efforts and donations, they've been able to help people live healthier lives.
Are you looking for free insurance quotes?
Your one-stop online insurance guide. Get free quotes now!
Secured with SHA-256 Encryption
Pros & Cons of Great American Life Insurance
The pros and cons of a life insurance company depend on what kind of policies they offer and their interactions with their customers. The pros and cons of life insurance policies depend on the features and riders that that individual insurer offers. Here is an overview of the best and worse that Great American brings to the table:
Pros & Cons of Great American Life Insurance
| Pros | Cons |
| --- | --- |
| Leader in life and health insurance market | Decline in annuities recently |
| Strong financial ratings | Not enough communication about the types of coverage offered |
| Good customer service | Few programs for clients |
| | #blank# |
Most of the reviews regard Great American's customer service as some of the best they've encountered, a necessity for life insurance.
Great American Life Insurance: The Bottom Line
If you found this article looking for United Teacher Associates' life insurance, you may be disappointed to find that they were purchased by another company called Great American. However, Great American, as a leader in the life and property insurance business, may have the coverage you need.
Great American has a strong history of securing the financial well-being of their clients.
If you work at one of Great American's partnered employers, you can discuss with your employer about your property protection options.
Ready to see your rates with top companies? Now that you've finished this Great American Life Insurance review, use our free quote tool to find your life insurance rates now.
About the Former United Teachers Associates
United Teacher Associates (UTA) operated out of its Texas headquarters for nearly 60 years. In 2016, the company was acquired by diversified holding company HC2 Holdings, Inc. as follows:
Continental LTC., Inc. (CLT), a subsidiary of Continental insurance Group, Ltd. (CIG), acquired UTA and Continental General Insurance Company (CGIC) in 2016.
UTA was merged with, and into, CGIC effective December 31, 2016.
CGIC became the insurance subsidiary of CLI at this same time.
CIG is the insurance unit of HC2 Holdings.
UTA no longer operates a website, nor does it write any new business.
CIG currently provides long-term care, life, annuity, and other accident and health coverage to approximately 132,000 individuals through CGI. It does not appear to be writing any new business.
As of its 2019 annual report, HC2 Holdings has seven major operating segments: construction, marine services, energy, telecommunications, insurance, life sciences, and broadcasting. Insurance is its third-most profitable segment, after construction and telecommunications, respectively.
Are you looking for free insurance quotes?
Your one-stop online insurance guide. Get free quotes now!
Secured with SHA-256 Encryption
Frequently Asked Questions: Great American Life Insurance
After pouring over this article you may still have some questions. So here are some insurance company FAQs to hopefully answer any questions you have.
#1 – Who owns Great American Insurance?
Great American is owned by the very similarly named Great American Insurance Group.
#2 – What does Great American Insurance do?
Great American is an insurer that helps people protect their money with annuities and protects businesses against property loss. Great American annuity rates will fluctuate over time.
#3 – Does Great American Insurance cover trucks?
Yes. Not only do they cover transportation, but they will also insure your cargo so that you don't have to worry about losing out if there are any accidents on the road.
Great American also covers a variety of other industries, such as aviation, farming, and equestrian properties, among others.
Editorial Guidelines: We are a free online resource for anyone interested in learning more about insurance. Our goal is to be an objective, third-party resource for everything insurance related. We update our site regularly, and all content is reviewed by insurance experts.