Georgia Car Insurance Laws & State Minimum Coverage Limits
Georgia car insurance laws require minimum liability rates of 25/50/25 for bodily injury and property damage coverage. The Georgia Electronic Insurance Compliance System is used to track insurance policies on vehicles registered in the state and replaces the use of insurance cards.
Free Car Insurance Comparison
Compare Quotes From Top Companies and Save
Secured with SHA-256 Encryption
UPDATED: Jun 1, 2022
It's all about you. We want to help you make the right coverage choices.
Advertiser Disclosure: We strive to help you make confident insurance decisions. Comparison shopping should be easy. We are not affiliated with any one insurance provider and cannot guarantee quotes from any single provider.
Our insurance industry partnerships don't influence our content. Our opinions are our own. To compare quotes from many different insurance companies please enter your ZIP code on this page to use the free quote tool. The more quotes you compare, the more chances to save.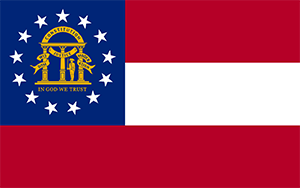 All drivers on Georgia roads are required to meet financial responsibility laws by carrying a minimum amount of auto insurance coverage. Georgia law mandates that all drivers have liability insurance, which pays for bodily injury or property damage in the event that a driver is responsible for an accident.
Table of Contents
Mandatory Insurance Coverage
Georgia's financial responsibility law ensures that all drivers carry basic auto insurance coverage to pay for damages as a result of a car accident. Every driver must take out an auto insurance policy that provides at least the following minimum coverage:
Bodily Injury – Every driver must have at least $25,000 per person and a total of $50,000 per incident for all injured parties, to pay for bodily injury in an accident where the driver was found at fault.
Property Damage – At least $25,000 of property damage coverage is required to pay for damage done to another vehicle or to any other property that might sustain damage as the result of an auto accident.
Are you looking for free insurance quotes?
Your one-stop online insurance guide. Get free quotes now!
Secured with SHA-256 Encryption
Are you looking for free insurance quotes?
Your one-stop online insurance guide. Get free quotes now!
Secured with SHA-256 Encryption
Optional Insurance Coverage
The most common option drivers in Georgia select on an auto policy is to increase the liability limits. The legal minimum is often not enough to provide coverage in a serious accident, and insurance companies offer higher limits as an option. In addition to increasing the liability limits for extra financial protection, drivers in Georgia can also add more options to create a full coverage policy.
Collision Coverage – This coverage pays for damage to or replacement of your car if you are involved in an at-fault accident. Collision coverage requires the payment of a deductible in most cases before benefits can be used.
Comprehensive Coverage – This coverage pays for any damage to or replacement of a vehicle that has been damaged from an event other than a collision. This includes theft, vandalism, weather damage, fire, and other non-collision damage. Comprehensive coverage also includes coverage for glass repair or replacement. A deductible usually applies.
Uninsured/Underinsured Motorist Coverage – This option provides coverage for any situation in which the other driver is at fault but does not have adequate insurance. It covers accidents with uninsured motorists and those whose limits are not high enough to pay for all the damage in an accident. This option can also provide coverage in a hit-and-run accident.
Additional Coverage Options – Auto insurance companies also offer a range of different options that can be added to a policy. These include towing and roadside assistance coverage, rental car reimbursement, and medical payments and funeral costs coverage as well.
Providing Proof of Insurance
The financial responsibility law in Georgia requires drivers to provide proof that they are carrying a policy meeting the legal minimums. A law change in 2003 eliminated the use of insurance cards as proof of insurance and introduced an electronic system, the Georgia Electronic Insurance Compliance System, to track insurance policies on vehicles registered in the state.
Insurance companies in Georgia are required by law to report all insurance policy information to the Georgia Department of Revenue, which keeps a database of all registered vehicle identification numbers and the policy associated with them. New policies and renewals must be reported within 30 days. Insurance companies also report cancellations, terminations, and changes from one vehicle to another.
Law enforcement officers in Georgia have access to this database in order to confirm instantly whether a vehicle is insured during traffic stops and at the scene of an accident. This replaces the previous system of presenting insurance cards as proof, however, drivers are still required to verify that the information on their insurance card matches what was submitted to the database, and should still carry insurance cards in the vehicle at all times.
Driving uninsured in Georgia is punishable by law as a misdemeanor. The penalties for a conviction can include:
Fines of $200- $1000
Jail time of up to 12 months
Suspension of driver's license for 60 days or until insurance is provided
License reinstatement fees
Drivers who cause an accident while uninsured, whether it be due to an insurance lapse or otherwise, can also be held responsible for the damage caused when they are at fault, and face a lawsuit.
Shopping for Car Insurance in Georgia
Georgia ranked as the 12th most expensive state for car insurance in a 2017 Insure.com study, with the average rate coming in at $1440. Among the possible reasons for the high rates for drivers are an increase in traffic and accidents and a large number of lawsuits resulting from accidents.
Georgia insurers use a combination of factors to determine rates, including driving record, type of vehicle, and vehicle use. Currently, there is no low-income auto insurance program in the state, although some insurance companies specialize in assisting those on a tight budget with obtaining coverage.
The best method for Georgia drivers to find affordable insurance is to compare rates across multiple companies. The Office of Insurance and Safety Fire Commissioner provides an insurance rate comparison tool that can help Georgia drivers find the best choice.
Currently, complaint ratios for Georgia insurance companies are not available from any government agency. Comparison shopping is the best way to ensure you can find the cheapest rates that you qualify for. You don't want to just stop at the first car insurance company that offers a decent insurance quote. Comparing your options is one of the best ways to make insurance decisions with confidence.
Are you looking for free insurance quotes?
Your one-stop online insurance guide. Get free quotes now!
Secured with SHA-256 Encryption
High-Risk Drivers and Insurance
High-risk drivers are those who are considered to represent a greater likelihood of a claim based on driving history and other factors. The most high-risk drivers are likely to find insurance rates very high or in some cases very difficult to obtain at all.
Drivers who are unable to obtain an insurance policy on the open market can apply for the Georgia Automobile Insurance Plan, which is an assigned risk system. This means that high-risk drivers are assigned to an insurance company through the plan, spreading the risk among multiple insurance companies while ensuring all drivers can obtain coverage.
This coverage can be very expensive and is a last-resort choice for drivers. Drivers must have a valid license and registered vehicle and have been unable to obtain insurance elsewhere to qualify.
Teen Drivers in Georgia
Georgia has a three-step graduated licensing program under the Teenage and Adult Driver Act (TADRA), which allows teen drivers to develop driving skills over time in a safe manner. Each step has specific requirements and restrictions.
Instructional Permit
The first stage of the licensing program is a learner's permit, which allows teens to begin practicing behind the wheel. At 15 years old, a teen driver can take the written knowledge test to obtain an instructional permit, after which they can begin supervised driving. A fully licensed driver over the age of 21 must be in the passenger seat at all times.
Class D Provisional License
After holding a permit for at least 12 months and at 16 years of age, a driver can apply for a Class D license, as long as they meet all of the following conditions:
Complete 40 hours of driving practice, 6 of which must be at night
Complete an approved driver education course if under the age of 17
Maintain a driving record free of any major violations
Pass a road test
With the Class D license, teen drivers can drive unsupervised, but must still comply with a set of restrictions.
Driving between midnight and 5 a.m. is prohibited without exception
Only immediate family members are permitted as passengers for the first 6 months
After the first six months, only one passenger under the age of 21 is permitted, aside from immediate family members
After the first 12 months, no more than 3 passengers under 21 are permitted, aside from immediate family members
Class C Full License
At 18 years old, teen drivers who have maintained a record free of any major violations can upgrade to a full driver's license. This lifts the remaining driving restrictions.
Teen drivers in Georgia who have not yet graduated from high school will face license suspension for any violation of the school attendance laws, including:
Dropping out before graduation
Unexcused absence from school of more than ten consecutive or non-consecutive days in the past two school years
Is found guilty of an offense that leads to disciplinary action, including sexual harassment, violence, and drug possession or sale at school
Teen drivers in Georgia must comply with financial responsibility laws as soon as they obtain a Class D license. Most teens are added to the policy of a parent or guardian, which allows them to obtain coverage at a more affordable rate. Teens who have moved away from home, unless they are away only to attend school, should obtain their own insurance policy.
Are you looking for free insurance quotes?
Your one-stop online insurance guide. Get free quotes now!
Secured with SHA-256 Encryption
Editorial Guidelines: We are a free online resource for anyone interested in learning more about insurance. Our goal is to be an objective, third-party resource for everything insurance related. We update our site regularly, and all content is reviewed by insurance experts.