Best Home Insurance for Ohio
The best home insurance in Ohio can be found with these three companies: Cincinnati Insurance, Amica Mutual, and State Farm. With lower than average rates, it is relatively easy to get a good deal on home insurance in Ohio.
Free Car Insurance Comparison
Compare Quotes From Top Companies and Save
Secured with SHA-256 Encryption
UPDATED: Jun 1, 2022
It's all about you. We want to help you make the right coverage choices.
Advertiser Disclosure: We strive to help you make confident insurance decisions. Comparison shopping should be easy. We are not affiliated with any one insurance provider and cannot guarantee quotes from any single provider.
Our insurance industry partnerships don't influence our content. Our opinions are our own. To compare quotes from many different insurance companies please enter your ZIP code on this page to use the free quote tool. The more quotes you compare, the more chances to save.

Ohio homeowners pay less for their insurance than many others in the country, with rates that are about 30% lower than the national average. That is good news, but since rates depend on a lot of factors, shopping around is still the best way for any homeowner to get the best policy at the best price. Our top picks are a great place to start.
The Basics of Ohio Home Insurance
Ohio homeowners are not required by law to carry any insurance coverage on their home. Mortgage companies, however, do require a policy as a part of the contract of the loan. This is to protect the mortgage company's interest in the property. When a homeowner fails to provide insurance as required by the terms of the contract, the lender can take out its own insurance policy. Called force-placed insurance, it protects only the lender and has no coverage for the owner. Since you will be charged for this policy, it makes more sense to also get coverage that protects your investment.
Your Ohio home insurance policy covers several basics. These are dwelling coverage – which is to protect the house itself, personal property coverage, and liability. Additionally, a standard policy pays for alternate living expenses when the home is not livable during repairs on a covered claim.
Beyond the basics, homeowner's insurance can cover a number of other needs and risks associated with home ownership. Some may be part of your standard policy (depending on the company) while others are endorsements and riders that can be added on.

Are you looking for free insurance quotes?
Your one-stop online insurance guide. Get free quotes now!
Secured with SHA-256 Encryption
Are you looking for free insurance quotes?
Your one-stop online insurance guide. Get free quotes now!
Secured with SHA-256 Encryption
Specifics of Home Insurance in Ohio
Home insurance policies in Ohio are similar to those offered in other states, without any state-specific differences.
The state's northern border along Lake Erie, along with some other areas, may have a requirement for flood insurance coverage. This is a separate policy, as floods are not covered by a standard home insurance policy. In a high-risk flood zone, your mortgage company may also require that you carry flood coverage, but even in lower risk areas, it is still a good idea.
Our Process
To select the best choices for home insurance in Ohio, we looked for companies that have not only good rates but also high-quality coverage. As a third factor, we looked for the companies that offer these things along with a solid reputation. Together, these three factors make for true value in a home insurance policy.
Most people are looking for the lowest price when it comes to their insurance, but that low rate sometimes comes with less coverage. Not all home policies are created equal, and there are far more add-ons and endorsements with a home policy than with the simpler auto insurance policy. We looked for companies that offer a lot of bang for your insurance buck – extra coverage and add-ons for a competitive price, rather than the lowest possible rate regardless of coverage.
Claims are where insurance companies really stand out, for better or for worse. We pay insurance premiums so that, when something goes wrong, the insurance company will step in and make it right. Company reputation for customer service – particularly in the event of a claim – is vitally important in choosing the best insurance company. No matter what you pay or what coverage is listed on the policy, it is what happens when you file a claim that matters most. All of our top picks have a good reputation for taking care of customers and specifically rank well for claims satisfaction.
Finally, we selected insurance companies that offer policies to the majority of Ohio homeowners, leaving off those that cater to a specific population. This means leaving off some great picks, such as USAA, which we do recommend to those that qualify but our list useful to the largest portion of the population.
Our Top Picks
These three companies offer Ohio homeowner's great coverage at competitive rates, and they do it with excellent customer service.



Cincinnati Insurance
Ohio-born and based Cincinnati Insurance ranks among the top names in the nation for homeowner's insurance, earning the number three spot on J.D. Power's list for overall satisfaction in 2018. Customer reviews reflect a company that offers fair rates as well, which ticks off another box.
The company offers excellent package homeowner's policies as well, with two levels of package coverage to choose from including one for high-value homes. And with auto, life insurance, and other products available, they are a one-stop shop and a great place to bundle coverage.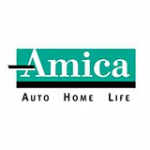 Amica Mutual
Amica Mutual sits at the top of J.D. Power's home insurance and claims satisfaction survey, and not for the first time. The company has a rock-solid reputation for taking good care of customers and especially shines in the claims department.
They also have excellent home insurance policies with plenty of standard features that would be add-ons elsewhere, and one of the biggest auto/home discounts around. They are not always the least expensive pick, but their rates are competitive and can drop dramatically when you bundle coverage.

State Farm
They are the number one choice of homeowners nationwide for good reason; State Farm is the total package. Homeowner's insurance coverage is comprehensive, offering a lot of extra benefits in the standard package plus plenty of ways to customize.
They too have a great auto/home bundling discount to bring their already very competitive rates down even further. And they rank near the top for customer satisfaction both overall and in claims satisfaction specifically giving them the reputation that keeps them at the top.
Are you looking for free insurance quotes?
Your one-stop online insurance guide. Get free quotes now!
Secured with SHA-256 Encryption
Shopping for Home Insurance in Ohio
Shopping for the best insurance for your Ohio home means taking a little time to look around and compare. While it can be time-consuming, it is well worth it to be certain you have your biggest investment properly protected without overpaying.
Dwelling coverage is the biggest part of a home insurance policy, and each company will calculate replacement cost in their own way. It is a good idea to know what amount you are comfortable with as well as what the mortgage company requires to satisfy the terms of your loan. Once you know what you need for replacement cost coverage on the house, you can make sure that every quote you receive meets or exceeds that amount. Bear in mind that replacement cost and market value are not the same thing and the dwelling coverage may be more or less than the market value of your home.
A trusted local insurance agent is a good place to not only gather some quotes but also get advice on what coverage you really need. While the big-name companies will offer online quoting or, like State Farm, have captive agents, an independent agent can provide you with quotes from some smaller companies. And because they do not work for just one company, you will get a more objective view of what coverage to select.
The Bottom Line
With lower than average rates, it is relatively easy to get a good deal on home insurance in Ohio. The goal is always to get the best coverage at the best price – from a reputable company – and with a little research, homeowners in Ohio can easily attain that goal.

Are you looking for free insurance quotes?
Your one-stop online insurance guide. Get free quotes now!
Secured with SHA-256 Encryption
Editorial Guidelines: We are a free online resource for anyone interested in learning more about insurance. Our goal is to be an objective, third-party resource for everything insurance related. We update our site regularly, and all content is reviewed by insurance experts.