Best Auto Insurance for Wyoming
The best auto insurance for Wyoming drivers are Geico, State Farm, and Farmers Insurance based on ratings, policies, and price. Wyoming car insurance requirements are a minimum of 25/50/20 of bodily injury and property damage coverage. Compare Wyoming car insurance quotes in your area with our free tool below.
Are you looking for free insurance quotes?
Secured with SHA-256 Encryption
UPDATED: Jan 30, 2022
It's all about you. We want to help you make the right coverage choices.
Advertiser Disclosure: We strive to help you make confident insurance decisions. Comparison shopping should be easy. We are not affiliated with any one insurance provider and cannot guarantee quotes from any single provider.
Our insurance industry partnerships don't influence our content. Our opinions are our own. To compare quotes from many different insurance companies please enter your ZIP code on this page to use the free quote tool. The more quotes you compare, the more chances to save.
Editorial Guidelines: We are a free online resource for anyone interested in learning more about insurance. Our goal is to be an objective, third-party resource for everything insurance related. We update our site regularly, and all content is reviewed by insurance experts.
Wyoming drivers pay higher car auto insurance rates than most of the country; the state lands in the top ten for the most expensive insurance on average. That makes shopping around auto policies even more vital than it usually is for making your insurance premiums more affordable. The best car insurance companies in Wyoming are a good place to start your search for affordable auto insurance.
Wyoming auto insurance can be confusing, and it can take a lot of time and effort to find the best comprehensive insurance for Wyoming and the best Wyoming car insurance company for you. We can help.
Read on for the complete guide to Wyoming auto insurance companies, and compare the cheapest Wyoming car insurance rates by entering your ZIP code here.
The Basics of Auto Insurance in Wyoming
Wyoming car insurance laws are about on par with the rest of the country, with requirements that are similar to most other states. Wyoming car insurance requirements are that drivers must carry policy limits of at least $25,000 per person and $50,000 per incident in liability coverage for bodily injury in an at-fault accident. Additionally, a minimum amount of $20,000 is required for property damage liability.
While these insurance coverage limits are fairly common compared to other states, that does not make them sufficient. In a serious accident, most state minimum coverage limits are far from enough to cover damages. Wyoming's laws are no different.
Although there is no further coverage minimum liability limit required by the state, drivers with a loan or lease on their vehicle will need to meet insurance requirements set out by their lender or lessor as well as the state legal requirements. In most cases, that means carrying comprehensive coverage and collision coverage on your insurance policy. Be sure to check your loan or lease agreement to find out what kind of coverage you need before you buy.
Are you looking for free insurance quotes?
Your one-stop online insurance guide. Get free quotes now!
Secured with SHA-256 Encryption
Specifics of Wyoming Auto Insurance
Wyoming has straightforward car insurance procedures that are similar to those in most other states. The system in place is a tort system, which means that in every car accident, someone will be found to be at fault and that person will be held financially responsible for the accident.
A car insurance policy will pay out on damages for which the insured driver is responsible up to the chosen limits. If you have a legal minimum policy, that is the most that your insurance will pay on a car accident where you are at fault.
Any amount beyond the limits on the policy becomes the driver's responsibility directly. In a serious accident with multiple injuries or fatalities, that can add up very quickly. The driver can be sued in a court of law for damages, and without enough insurance, that lawsuit can mean financial hardship and put your assets at risk.
As you shop for auto insurance, take into consideration Wyoming's insurance laws, minimum coverage requirements, and average rates, and be sure to compare quotes before choosing an insurance provider.
The safest course of action is to make sure you have enough car insurance to avoid paying out of pocket.
Our Process for Selecting the Best Wyoming Auto Insurance
It is our goal to present the best choices for car insurance and not just the least expensive. Saving money is everyone's goal, but not all car insurance companies are created equal, and a cheap auto insurance rate does not make a company a good pick.
To make sure all of the companies we chose are a good choice for Wyoming drivers, we started with company reputation. We checked with trusted consumer rating services, such as J.D. Power, and also our own research into customer complaints and reviews in order to make sure we recommend only companies with a good reputation. All of our top picks are known for good customer service and the crux of car insurance service – excellent claims handling.
That does not mean price is not of concern – we also compared the best-rated companies in terms of prices. All of our choices offer good value in car insurance, bringing together a good reputation with competitive premiums. Although it is worth paying a little more to get really great insurance, there is no reason to overpay if a good company provides the same for less. Doing your research can save you hundreds of dollars in car insurance.
We chose car insurance companies that cover drivers across Wyoming, regardless of where you live. We also ensured that our choices do not have any limitations on who can apply for coverage. USAA, for example, is a highly rated insurance company with great rates, but only military members and their families are eligible for coverage. As a result, it is not on our list of Wyoming car insurance carriers but does come recommended for those that meet the eligibility requirements.
Our Top Picks for Wyoming Auto Insurance
These three companies offer a solid combination of service and value to Wyoming drivers, making them our top picks.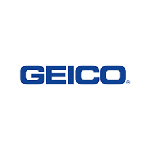 Geico insurance agency rose to the number two spot nationwide for car insurance market share over the past few years, and they did it by offering what many drivers want: low prices, great service, and quick, easy online and mobile access.
Geico ranks well in J.D. Power's regional survey, making the company a top choice for Wyoming drivers. They also offer some of the lowest rates across the board, no matter what your driving history, which means they are a fantastic value.
From the second-largest car insurance company in the country, we move on to the company in the number one spot. State Farm has held their status as America's favorite personal insurer for a while, and they are one of the best bets for Wyoming drivers too.
State Farm has top ratings from J.D. Power in the regional satisfaction survey, and they have carried a good reputation for claims service for a long time. The company is also one of the most competitively priced companies in the states, in spite of the fact that agents usually mean higher premiums. State Farm's excellent bundling discounts make them a top pick for those looking for the best auto and home insurance in Wyoming in one place.

Not usually seen as a low-priced insurer, Farmers Insurance – another agent-driven company – actually has great rates in Wyoming. They have also got a good list of available discounts, including bundling of auto and home insurance, that can make their policies even more affordable.
Farmers also ranks well in the region for overall customer satisfaction, which earns them a spot on our list for the best car insurance in Wyoming.
Are you looking for free insurance quotes?
Your one-stop online insurance guide. Get free quotes now!
Secured with SHA-256 Encryption
Shopping for Wyoming Car Insurance
Wyoming is a big state, and car insurance rates can vary greatly from place to place as well as from driver to driver. Our top picks are a great choice for anyone, but it is always well worth comparing as many companies as possible to make sure you have found the best policy for your particular needs.
If you live in a rural area, you may want to look to local companies that cater to farmers and rural drivers. A local independent agent can help you gather quotes from smaller companies and compare rates as well. Just be sure that you have thoroughly checked out each company's reputation before you buy. While smaller companies often do not show up in J.D. Power ratings, our reviews offer plenty of insight.
Before you shop, be sure you know exactly what coverage you need. Carrying higher liability limits do not usually cost much on a monthly basis, so this should be the first place you spend a few extra dollars when it comes to kicking up your coverage. Carrying higher limits can save you from a major financial hardship in the event of an accident.
Once you know what coverage limits and options you want, make sure all the quotes you request have that same optional coverage. That will make sure that you are able to compare policies on an apples to apples basis in terms of the coverage you need, and not compare coverage premiums on policies with vastly different coverage.
If you need help with high-risk auto insurance, try the Wyoming Automobile Insurance Plan.
The Best Auto Insurance for Wyoming: The Bottom Line
Wyoming drivers have plenty of choices in car insurance, and the top picks tend to be big-name national-level companies. Do not count out your local insurers though, as sometimes they can turn out to be the best pick based on individual needs. Getting personalized rates from a company that has your back at a great price is always the goal of shopping around – and it may surprise you which company that turns out to be.
Ready to find the best auto insurance for you in Wyoming? Enter your ZIP code for free quotes now.