The Best Home Insurance for Maryland
The best Maryland home insurance companies are Erie Insurance, Amica Mutual, and State Farm. Average Maryland home insurance rates are 30% below the national average and the best way to find cheap home insurance quotes in Maryland is by shopping around with our quote comparison tool.
Are you looking for free insurance quotes?
Secured with SHA-256 Encryption
UPDATED: Mar 10, 2022
It's all about you. We want to help you make the right coverage choices.
Advertiser Disclosure: We strive to help you make confident insurance decisions. Comparison shopping should be easy. We are not affiliated with any one insurance provider and cannot guarantee quotes from any single provider.
Our insurance industry partnerships don't influence our content. Our opinions are our own. To compare quotes from many different insurance companies please enter your ZIP code on this page to use the free quote tool. The more quotes you compare, the more chances to save.
Editorial Guidelines: We are a free online resource for anyone interested in learning more about insurance. Our goal is to be an objective, third-party resource for everything insurance related. We update our site regularly, and all content is reviewed by insurance experts.
The average cost of homeowners insurance in Maryland falls about 30% below the national average, which means Maryland homeowners pay a lot less than the homeowners in many other states. Every home is different, and rates can vary quite a bit by location, so one home may cost more and another may cost less – which is why shopping around is key to getting the best value and lowest insurance rate for the coverage you want. Our top picks are a good place to start your search.
The Basics of Maryland Home Insurance
Home insurance is not required by any law, but it is a requirement of your mortgage agreement. Lenders require it in order to protect their investment in the home, and if a homeowner fails to carry an adequate policy, they can take out one of their own. This type of policy, known as force-placed insurance, covers only the interests of the lender and does nothing for the homeowner – even though the homeowner will be made to pay for it.
That means that carrying home insurance, while not legally required, is in the best interests of the homeowner. It protects the home, all of the contents in the home, and also provides liability coverage and loss of use benefits.
In addition to the basics of coverage, a homeowners insurance policy can provide any number of added benefits, with long lists of optional insurance coverage available that allow homeowners to customize their policy. Among the options and endorsements available are special riders for high-value items, water and sewer backup, equipment breakdown, fire department charges, and even lock replacement.
Some companies may offer extra coverage as part of a standard policy, while others provide them on an a la carte basis. This can impact the price of the policy depending on what coverage you need.
Are you looking for free insurance quotes?
Your one-stop online insurance guide. Get free quotes now!
Secured with SHA-256 Encryption
Specifics of Home Insurance in Maryland
Being a coastal state, Maryland is at risk of hurricanes and other storms that can cause a lot of water damage. Floods are a risk even when there is not a hurricane around.
It is important to know that flooding is not a part of a standard home insurance package, so homeowners will need to purchase a separate policy to protect themselves from the high cost of flood damage. These policies are often sold through the National Flood Insurance Program.
Our Process
The best home insurance means a lot more than just the least expensive, and we looked for our top picks by evaluating them on several different factors.
Price is one of those factors, and no one wants to overpay for coverage. But a cheap rate can sometimes mean you are underinsured, have a huge deductible, or lack other important coverage. You do not want to pay too much for the coverage you need, but you also don't want to be without coverage just to pay a little less.
We looked for companies that offer good rates on solid, comprehensive policies. Specifically, we were looking for companies that provide the extras without the extra cost – that often means including extended replacement cost coverage on the dwelling or adding in coverage that is often an added cost at other companies.
In order for any insurance policy to be considered a good value, it has to be backed by a good company. We looked for insurance companies that rate highly in customer service, particularly when it comes to claims. In our research, the vast majority of both customer complaints and positive reviews of an insurance company are about claims. That makes sense, since it is the opportunity for an insurance company to shine or to disappoint, and it's the main reason people have insurance. All of our choices rate highly when it comes to taking care of customers.
Finally, we selected only companies that serve the entire state and have no requirements for obtaining a policy. USAA is a great company and we do recommend them to military members and their families for homeowners insurance, but since they are not open to the general public, they didn't make our list.
Our Top Picks
These three companies all meet our standards for excellence in customer service, great products, and competitive pricing.
With high ratings from J.D. Power and plenty of good reviews from customers, Erie earns high marks for its customer service reputation. They specifically performed in the top three nationwide for claims satisfaction.
Erie also has a solid home insurance policy, offering guaranteed replacement cost coverage and lots of extra benefits. They are a good choice for bundling too, with a big auto insurance/home insurance discount available. Erie generally ranks well for pricing, too, rounding out their high rating.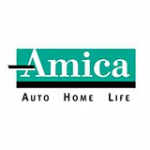 Amica Mutual
Amica has been sitting at the top of J.D. Power's home insurance rankings for some time, earning the award for overall home insurance satisfaction as well as for claims. Since they are also top-ranked for auto insurance and have a hefty bundling discount, they are a great place to get both.
The Amica home insurance policy is comprehensive and includes extended replacement costs along with lots of other features. And Amica does it all with competitive rates for Maryland homeowners.
State Farm has been one of the most trusted names in insurance for a very long time, and they have earned their spot as the most popular personal insurance company in the nation. J.D. Power ranks them in the top five for customer satisfaction as well as for claims satisfaction, which means their reputation is solid.
State Farm also has excellent home insurance policies that can be customized to meet each customer's needs, and like our other picks are a great choice for bundling. Their competitive rates can be lowered even more with a big bundling discount.
Are you looking for free insurance quotes?
Your one-stop online insurance guide. Get free quotes now!
Secured with SHA-256 Encryption
Shopping for Home Insurance in Maryland
While all of our picks generally offer competitive rates, Maryland's home insurance prices can vary quite a bit, so the company that is a great deal for one home may not be the best for another. It is best to compare as many reputable companies as you can in order to be sure you are getting the best value.
In order to make sure you are getting rate quotes that are a fair comparison to one another, it's a good idea to make sure you know what kind of coverage you want. Dwelling coverage is the biggest part of your home policy, and the calculations for this number can sometimes vary widely from company to company. Do your own calculations, and talk to your lender about what they require, so you will know what you need. Bear in mind that companies offering extended or guaranteed replacement costs are prepared to pay a higher amount than that number.
You should also know what deductible you want for the policy as well as decide on what endorsements and add-ons you need. If you have high-value items and need riders, request that those be quoted with the base policy. That way you will know the true cost with no surprises.
All of our top picks are big companies, but there are smaller, local insurers in Maryland that may well offer you the best value. Working with an independent agent to get some additional quotes is a good way to find companies that may otherwise fly under the radar.
The Bottom Line
Maryland homeowners can get great rates from some of the best companies in the home insurance market, which makes shopping for coverage a little easier. Take your time looking at policies – this is coverage for your biggest investment – and do not forget to check the reputation of any insurance company you are considering. Feeling confident your insurer will have your back when it's time to file an insurance claim is the most important aspect of buying an actual policy.